Say hello to our new Vegan Diet range, featuring two delicious protein powders that have been developed by experts and contain active ingredients to support your metabolism and immune system. Whether you're looking for a classic shake or something a little lighter, we've got you covered.
Keep scrolling to learn more about the range…
Vegan Protein Diet Blend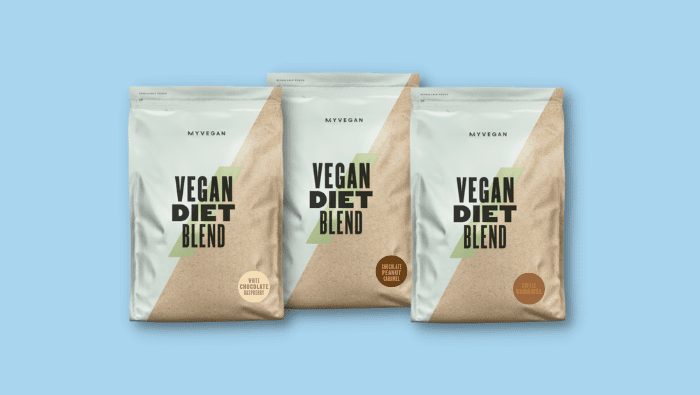 With 25g of protein per serving, the Vegan Diet Blend is perfect if you're trying to pack on plant-powered muscle, get some more protein into your diet, or are looking for a delicious and convenient way to feel fuller for longer.
To make sure you get the most from your shake, we've even added a mix of active ingredients including: glutamine, green tea extract, l-carnitine and choline to support your metabolism, which could help you start to see the results you're looking for. 
The Vegan Diet Blend also provides a great source of Omega 3, as well as carbs, fibre and fats from oats, flaxseed and chicory root to help you feel satisfied – and prevent snack cravings – when coupled with a healthy, balanced diet.
To top it off, this delicious blend comes in three delicious and indulgent flavours – White Choc Raspberry, Coffee Caramel and Choc Peanut — so you'll never feel like you're missing out!
Clear Vegan Protein Diet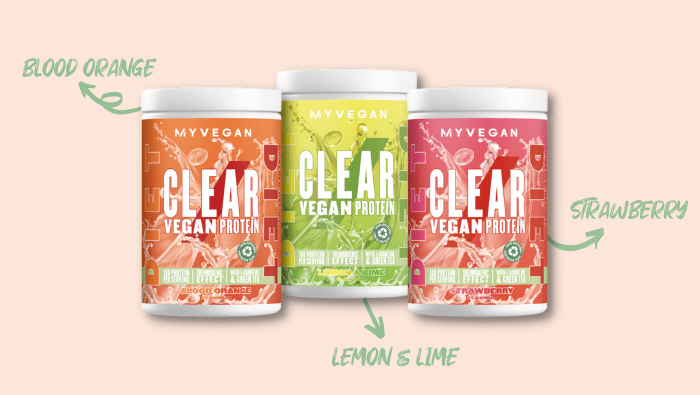 Clear Vegan Diet is an essential for summer, transforming the usual creamy protein shake into a fruity and refreshing drink packed with added benefits. This delicious powder is made up of carefully selected ingredients to support your metabolism, including: chromium picolinate which contributes to normal macronutrient metabolism, green tea extract, L-carnitine tartrate, and BioPerine® – a black pepper extract for that added thermogenic effect.
But that's not all. We've made sure to include a blend of essential vitamins so you can really get the most out of your shake. This includes Pantothenic acid to reduce tiredness and fatigue, and vitamins C and B12 to maintain a normal functioning immune system.
Each serving delivers 10g of protein, as well as zero sugar and zero fat, so you won't be sacrificing macros. Simply mix with water and be transported to a tropical island of flavour.
And did we mention it comes in three different flavours? With Lemon & Lime, Blood Orange and Strawberry to choose from – who knew a vegan protein powder could taste this good?