The quickest, easiest and healthiest way to sweeten up your food.
---
We are excited to share with you our sweetest launch yet – our range of vegan syrups and flavourings.
With 5x FlavDrops™ and 2x Sugar-Free Syrups flavours to choose from, you are guaranteed to find the one for you. These flavourings are all contain zero sugar or fat making them one of the best healthy sweeteners you can use whilst working towards your fitness goals.
With this range, we aim to make it easy to transform your breakfasts, desserts and smoothies without needing to add expensive or unhealthy ingredients.
So let's find out exactly what the FlavDrops™and Sugar-Free Syrups are – introducing your new cupboard essentials.
1. Sugar-Free Syrup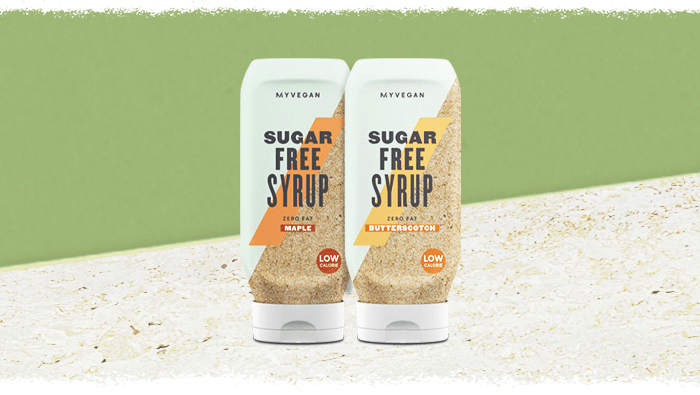 The Sugar-Free Syrups are naturally-flavoured sweeteners that are perfect for drizzling on vegan ice-cream, pancakes and porridge. What makes these so incredible is that you can enjoy extra sweet toppings without worrying about the extra calories – these syrups contain zero sugar or fat!
If you are working on your fitness or looking for a healthier dessert choice, then stash one of these in your cupboard for you to grab when need – guilt-free! You can satisfy those sweet cravings and still stay on track to smash your fitness goals.
Oh and they're also excellent vegan sweetener alternatives to honey. Try adding them to your fruit and veggie smoothies to sweeten them.
We have designed these syrups in a mess-free, squeezy bottle because we know no one wants to have to clear up a sticky mess when cooking.
The Sugar-Free Syrups are available in Maple and Butterscotch flavours.
Shop the Sugar-Free Syrups.