Recipe by Maria AKA @mimismacros
These vegan-friendly muffins are easy to make and take less than 20 minutes to bake. They have a perfect crunchy top and a soft fluffy base – perfect with a cup of tea or coffee.
The muffins are dairy-free and naturally sweetened with maple syrup and dark chocolate chips, making them a great natural snack to add into a plant-based diet.
The chocolate flavour comes from the chocolate protein powder and the chocolate chips, which goes extremely well with the nutty taste of the almond or peanut butter (whichever you choose).
Made with 2 scoops of Vegan Protein Powder, each muffin provides a source of natural plant protein making it easy to increase your daily intake of this important macronutrient.
Enjoy these muffins still warm with a glass of almond milk or a warm brew, or you can store them in an air-tight container and they'll last for a few days (if they last that long!).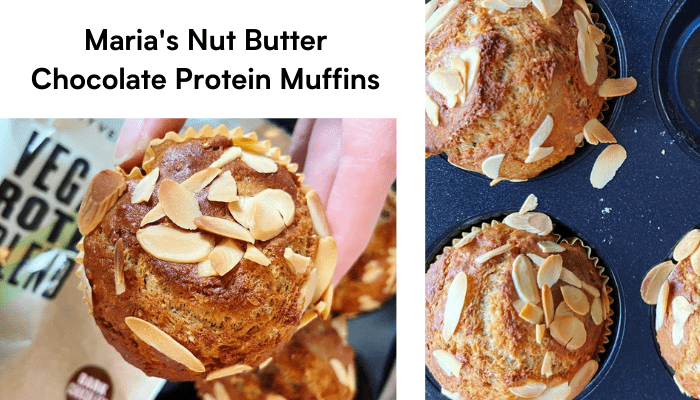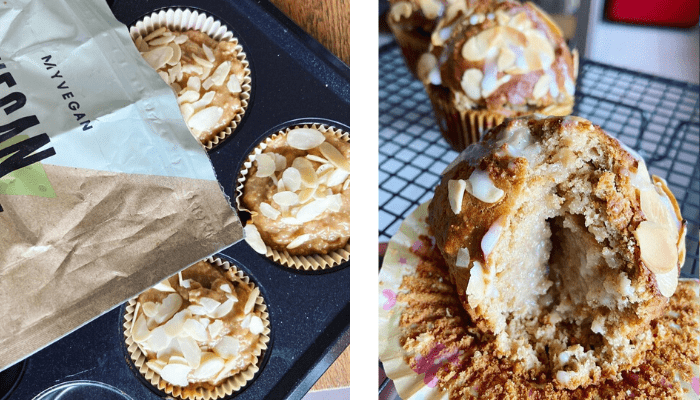 Ingredients
1/2 cup Peanut Butter or almond butter
1/2 cup rolled oats
2 scoops Vegan Protein Powder (dark chocolate)
Ener-G egg replacer
1 mashed banana
1/4 cup Organic Maple Syrup
1 cup oat milk
1/2 cup soy yogurt
1 1/2 teaspoons baking powder
1/4 cup almonds/dark chocolate chips
dash of salt
1 cup whole wheat flour
1 teaspoon almond/vanilla extract
Method
Preheat oven to 190°C.
Combine the dry ingredients together in a large mixing bowl and mix well.
Then, combine the wet ingredients together in a separate bowl and mix.
Add the wet ingredients to the dry ingredients and gently fold in the almonds/chocolate chips. Stir well to combine.
Spray a muffin tray with cooking spray or line with muffins cases/baking paper.
Fill each muffin cup with the mixture.
Bake in the oven for 12-15 minutes until the muffins are golden brown. Test the inside is cooked by pushing a skewer or cocktail stick in the centre – it should come out with little wet mixture on it.
Leave the muffins to cool on a rack and then enjoy!