Recipe by Laura Holloway (@_healthyhappylaura)
Apple and cinnamon is a well-known and well-loved flavour combination. This Apple, Cinnamon and Walnut Baked Protein Oats recipe makes the most of this perfect pair of ingredients to give you a warming, comforting and nutritious cake.
Now that it's Autumn, that means it's apple season – so you know this is one worth trying soon. This recipe has an amazing balance of carbohydrates, protein, fibre, and healthy fats, meaning you can tuck into it and know you are fuelling your body with plant-powered goodness.
Maybe it's raining outside or you've had a bad day at work, or perhaps you just love the taste of fruit and spice and all things nice – whatever the reason, this Baked Proats recipe is an easy crowd-pleaser.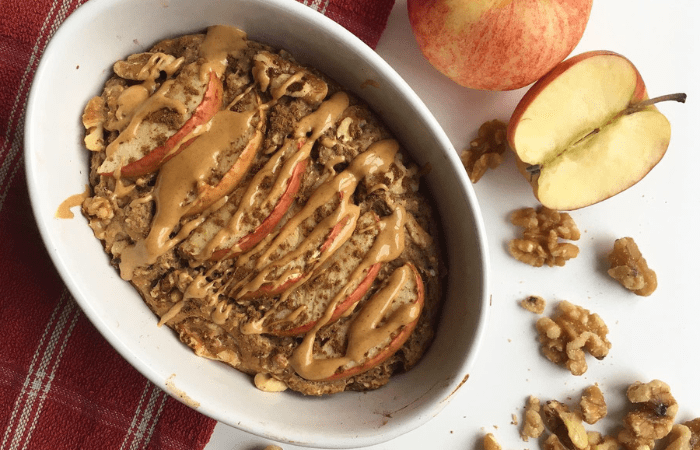 Apple, Cinnamon & Walnut Baked Protein Oats Recipe
Preparation time:  25 mins
Cook time: 25 mins
Ingredients:
Method:
Preheat the oven to 180°C.
Combine all dry ingredients except the walnuts in a large mixing bowl.
In a separate bowl, mash up the banana and mix with the almond milk and vanilla extract. If you don't want to use vanilla extract, you can use Vanilla flavoured protein powder.
Combine the banana mixture with the dry ingredients and mix well.
Stir in half of the apple (peeled and diced) and half of the walnuts (roughly chopped).
Pour the mixture into an oven-proof dish and top with the remaining walnuts, slices of remaining apple, and a sprinkle of cinnamon.
Bake in the oven for 25 minutes until golden brown.
Once cooked, remove from the oven and decorate with a drizzle of peanut butter.