High-Fibre Sweet Potato Brownies
These brownies contain two secret ingredients – sweet potatoes and dates! These ingredients are naturally sweet and reduce the need for refined sugars. Sweet potatoes and dates are also high in fibre, which is important for a healthy gut.
Don't be put off by the use of more natural sweeteners; these brownies are rich, chocolatey and delicious!
What Are Sweet Potato Brownies?
Traditional brownie recipes tend to feature dairy products as well as relying on eggs to provide texture. The cooked sweet potato and dates act as a binding ingredient, in place of egg or vegan egg-alternatives.
Why You'll Love This Recipe
Most people don't reach the recommended 30g of fibre per day, but the inclusion of sweet potato and dates add a real fibre boost to this recipe.
How To Make Sweet Potato Brownies
This recipe uses everyday ingredients and doesn't require vegan egg replacement products. Pitted dates work just as well as the more expensive varieties, so these brownies can easily be made on a budget as well.
This recipe makes 12 brownies.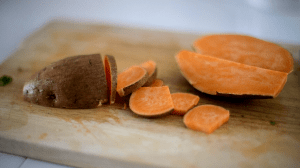 Equipment You'll Need
Knife
Chopping board
Vegetable peeler
Roasting tin
Measuring spoons
Wooden spoon or spatula
Microwave safe bowl
Microwave
Oven
Mixing bowl
Weighing scales
Measuring jug
Food processor or blender
Brownie tin or loaf tin
Ingredients
450g sweet potatoes, cubed
15 pitted dates
250ml oat milk
200g plain flour
100g soft light brown sugar
50g cacao powder
100g vegan dark chocolate (melted)
45ml vegetable oil