5-Ingredient Sweet Potato Brownies
Super-simple recipe from Niall Kirkland.
Create these delicious and gooey sweet potato brownies, only using 5 simple ingredients. Who knew sweet potatoes work really well in baking?! If you think that sweet potatoes are only suitable when accompanying a burger then think again. Their natural sweetness holds plenty of moisture which keeps the brownie consistency gooey and dense.
Scroll for the ingredients list and method – then try out this simple recipe to see what you think. You won't be disappointed!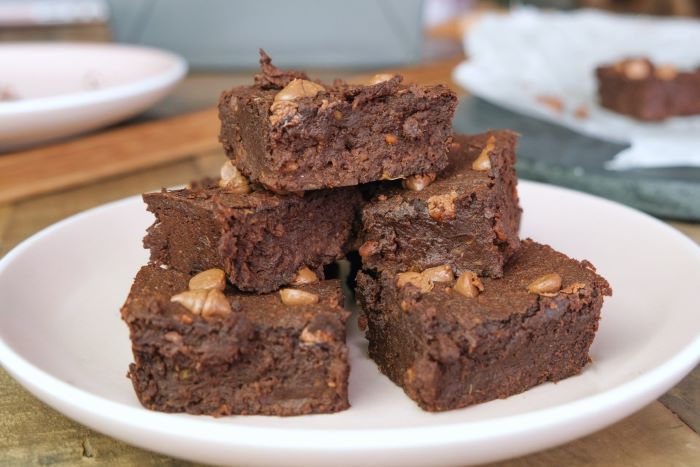 Sweet potatoes are an A-class food source
Sweet potatoes are a nutritionally dense and versatile food source which can be incorporated into your meals in many ways. You can rustle up some chips, serve them in slices or even use them when baking brownies! The root vegetable is also packed with nutrition, from being rich in many vitamins and minerals like potassium and magnesium. Not to mention, they are high in fibre!1
Servings

10 Brownies
5-Ingredient Sweet Potato Brownies Recipe
Ingredients
300 g sweet potatoes
125 g nut butter of choice
70 g Maple Syrup
25 g Organic Cacao Powder
A crack of sea salt
1 scoop Sweet Potato Powder (optional)
A handful of vegan friendly chocolate chips (optional topping)
Method
First, preheat the oven to 175°C/ 350°F.

Then, bring a saucepan of water to boil. Peel and chop your sweet potatoes and then steam for 15-20 minutes.

Once steamed, mash your sweet potato once and transfer it to a mixing bowl. Add the nut butter, maple syrup, cacao powder, and a crack of salt.

Mix all ingredients together well until you have a smooth brownie batter.

Transfer the batter to a lined loaf tin or baking dish, sprinkle with chocolate chips if you're using them, and bake for 20 minutes.

Remove from the oven and leave to cool before slicing into ten pieces.

Tuck in and enjoy your tasty brownies!