Once you've made a batch of these vegan No-Bake Oat Bars, there's no going back!
---
Not into baking but want a delicious snack that'll keep you going until dinner time? These No-Bake Oat Bars are great to have on-hand, especially if you struggle to keep away from the biscuit tin or that convenient chocolate bar.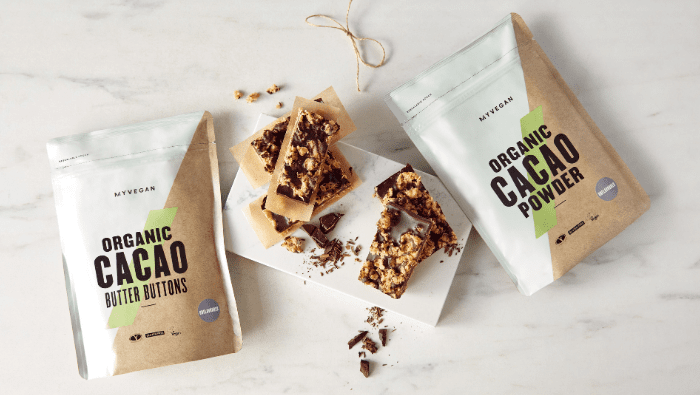 This recipe makes a great addition to a balanced vegan diet – thanks to the addition of our Gluten-Free Rolled Oats and All-Natural Peanut Butter. These ingredients provide an excellent source of fibre, complex carbs and plant-based protein – all of which support muscle recovery after workouts, and help you feel full and energised throughout the day.1,2
Plus, if you love chocolate just as much as us, these No-Bake Oat Bars are sure to hit the spot. Containing Organic Cacao Butter Buttons, Organic Cacao Powder and vegan chocolate chips, you can get your chocolate fix, along with an abundance of essential nutrients. Cacao is an excellent source of iron, magnesium and copper to support your metabolism.3 It also contains 29g of plant-based protein per 100g – making it easier for you to meet your daily requirements.
Make these No-Bake Oat Bars on a Sunday, and you'll have a batch ready to see you through the week ahead!
No-Bake Oat Bar Recipe
Ingredients
Method
Line an 8-inch or 9-inch square baking dish with parchment paper and set aside. Overhang the edges of

parchment paper

so you 

can easily 

remove the bars from the baking dish.

 

Melt the coconut oil and brown sugar in large saucepan over medium heat, until

the coconut oil has

melted and the sugar has dissolved.

 Mix in the Vanilla 

FlavDrops

, rolled oats and water

. 

 

To make the filling, melt

the Organic Cacao Butter Buttons, All-Natural P

eanut

B

utter, chocolate chips

 and

 

Organic Cacao 

P

owder

 together in a 

g

lass bowl over a pot with hot water

. S

tir until all ingredients are fully melted and smooth.

 

Pour half of the oat mixture into the prepared baking dish. Spread out the mixture evenly, pressing down. Reserve the other half for the second layer.

Pour the chocolate mixture over the crust in the pan, reserving about 1/4 cup for drizzling and spread evenly.

Pour the remaining oat mixture over the chocolate layer, pressing in gently and drizzle with the remaining chocolate mixture.

Refrigerate

for 

3 hours

and b

ring to room temperature before cutting into bars.

 
Note: Like any no-bake product, the final texture of these really depends on how long you boil the sugar mixture. If it doesn't boil long enough, the cookie/bars mixture will be too soft, if you boil too long, they could turn out dry and crumbly.