Curry lovers, rejoice! Our friends at MOB Kitchen have knocked it out the park (once again) with the dreamiest vegan curry recipe! 
We're big fans of a vegan curry – always have been and always will be. But this Tofu Panang Satay Curry is up there with our favourites! Though making a curry from scratch might sound daunting at first, fear not! MOB Kitchen are here to show you it doesn't have to be.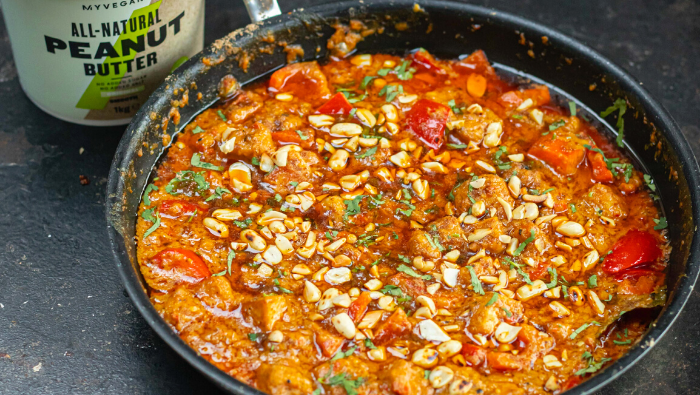 Jam-packed with simple, yet wholesome ingredients like tofu, All-Natural Peanut Butter and Flaxseed Powder, there's not better way to amp up your fibre and protein intake than this. It's creamy, peanut buttery – and most importantly – downright delicious. Winning. 
Whether you're a fully-fledged vegan or just want to dabble in the world of plant-based eating, this vegan curry recipe is one to have on your radar!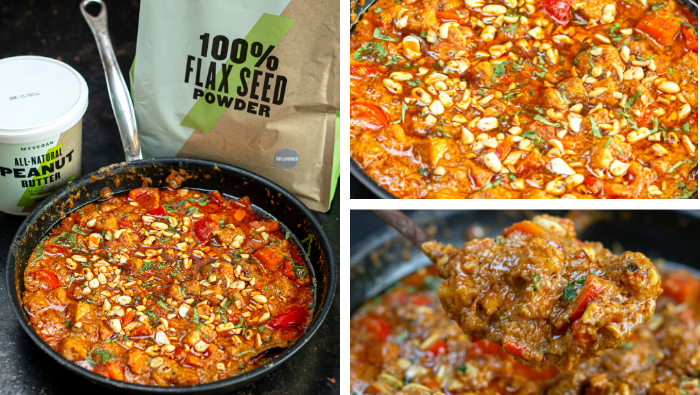 Tofu 

Panang

 Satay Curry

Recipe
Ingredients
1tbsp Myvegan Flaxseed Powder

5 shallots

 

4 cloves of garlic

 

1tsp 

tu

r

meric

 

2 

lemongrass

 

5 red bird's eye chilis

 

1tsp ground 

coriander

 

1tsp ground cumin

 

2 bay leaves

 

400ml coconut milk

 

560g firm tofu

 

2 red peppers

 

2tbsp peanuts

 

Small handful of 

coriander

 

2 limes

 

Olive oil

 

Salt

 

Black pepper

 
Method
Blend the shallots, garlic, ginger, lemongrass,

chilis

, ground 

coriander

, ground cumin and a good grind of black pepper in a food processor until smooth. Add a 

tablespoon

 of water if necessary. Fry the paste

 and bay leaves in a large glug of oil for 5 minutes until the 

colour

 has darkened slightly.

 

Add in the coconut milk, peanut butter, 250ml water and 1tsp sugar and bring to a simmer. Cook for around 15 minutes.

 

Meanwhile, chop up your tofu into cubes and gently fry in a saucepan until golden brown. Add these to your curry and cook for about 10 minutes.

 

Toast your peanuts on a dry frying pan and roughly chop your peanuts and 

coriander

. Chop up your red pepper into large chunks and add that into the curry. Cook for a further 5 minutes.

 

Finish with the juice of your limes, sprinkling of peanuts, 

coriander

 and flaxseed powder. Serve on a bed of rice and enjoy.