These vegan protein pancakes may be super healthy, but they pack in some mighty flavour! 
---
Thought up by vegan blogger, Naturally Stephanie, these fluffy vegan pancakes are high in protein and contain an abundance of nutrient-dense ingredients, including a spoonful of Organic Maca Powder. Not only does this superfood have a malty sweet taste that anyone will love, it also plays host to an abundance of key nutrients. To name a few, maca powder is an excellent source of copper which helps to maintain healthy cognitive tissue1, and vitamin C which supports healthy bones and reduces feelings of tiredness and fatigue.2,3
And if that wasn't enough to tempt you, these protein pancakes are made using our bestselling Vegan Protein Blend, to help you meet your daily requirements and keep you going from breakfast 'till lunch time.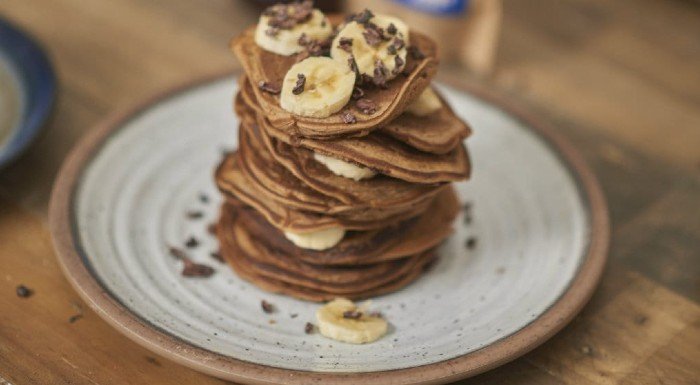 Servings

6-8 small pancakes
Method
First, combine all ingredients except toppings in a blender and process until smooth. The banana acts as your egg replacer to bind all of the ingredients together.

Next, add coconut oil to a pan and turn to a medium to high heat.

Pour out the batter (around 2-3 tbsp. at a time). Fry until the edges begin to turn golden, then carefully flip and fry for a further minute or so on the other side. Repeat for remaining batter.

Once you have your stack, top with banana, cacao nibs and maple syrup. Easy!