A big stack of healthy pancakes makes for the ultimate weekend brunch! This recipe makes thick and fluffy pancakes with a delicious sweetness from the pumpkin puree and maple syrup.
What's great about this recipe is that it doesn't need tonnes of sugar for sweetness – even the maple syrup topping is sugar-free! You can enjoy these guilt-free and know that you're also getting a massive 26g of plant-based protein per serving too.
This pancake recipe uses apple cider vinegar which is an amazing ingredient in baking because it reacts with the baking soda to produce carbon dioxide bubbles, which in turn help to give these pancakes their springy, fluffy texture.
You can add whatever extra toppings you like and drizzle your pancake stack with our Sugar-Free Maple Syrup – a great low-calorie option for people looking to lose weight or reduce their daily sugar intake.
Discover the full recipe below.
Servings

4-6 pancakes
Plant-Based Pumpkin Protein Pancakes Recipe
Ingredients
350 ml almond milk
2 tbsp. apple cider vinegar
1 tsp. baking soda
1/2 tsp. salt
400 g pumpkin puree
200 g wholemeal flour
100 g Vegan Protein Blend
2 tbsp. coconut oil
1 tbsp. Sugar-Free Maple Syrup (for the toppings)
Sprinkle of cinnamon (for the toppings)
Method
In a large bowl, combine the almond milk, vinegar, pumpkin puree and set aside.

Then in a separate bowl, combine the baking soda, flour, salt and protein powder.

Mix the wet and dry ingredients, then let sit for 5-10 minutes.

Meanwhile, add coconut oil to a heavy based pan and heat over medium heat.

Once hot, pour a ladle of the pancake batter into the pan. When the batter begins to bubble, flip and cook for a further 2-3 minutes.

Repeat with the rest of the batter until you have a stack of pancakes! Serve with maple syrup and a sprinkle of cinnamon.
If you liked this recipe, then here's one to try next: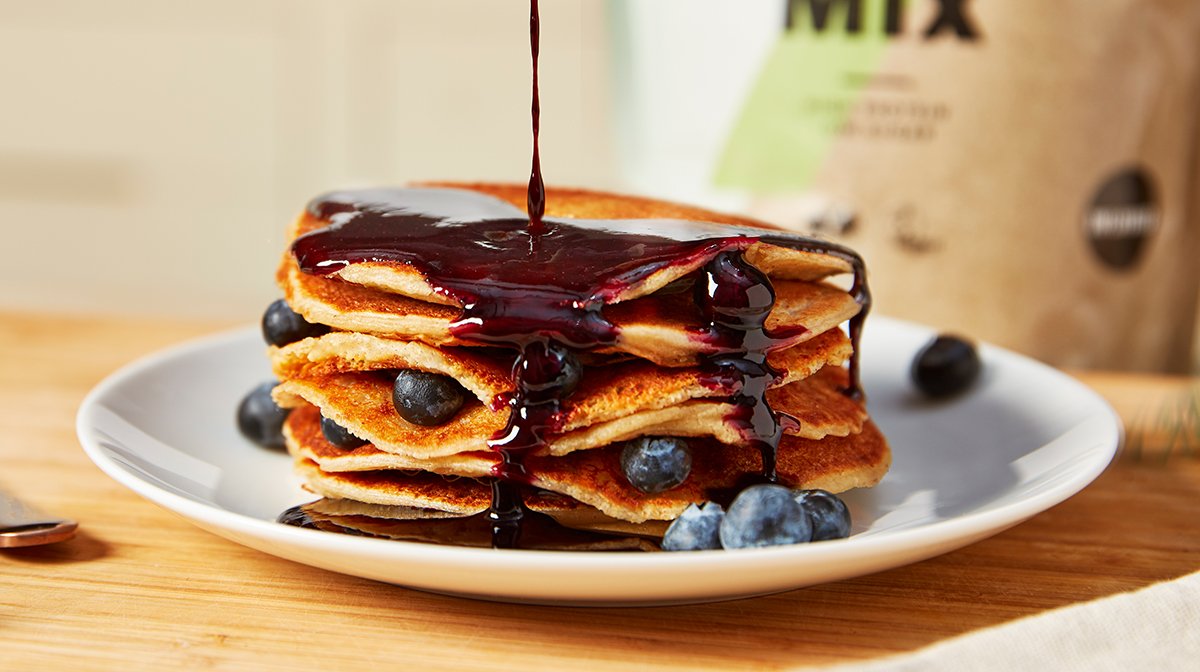 Make every day Pancake Day with this go-to stack of pancakes and blueberry coulis drizzle.