What better way to end a sweaty workout than with ice-cold granita?  
---
Recipe by Maria Devine (@mimismacros) 
Made with just 4 ingredients, this Lemon & Lime Protein Granita is bursting with fruity flavour, making it the tastiest way to get extra protein in your diet (and cool down post-workout). 
Each delicious serving comes in at just 12 calories, so it's the perfect treat for those moments when you're craving something sweet – but don't want to undo your hard work, or feel sluggish afterwards.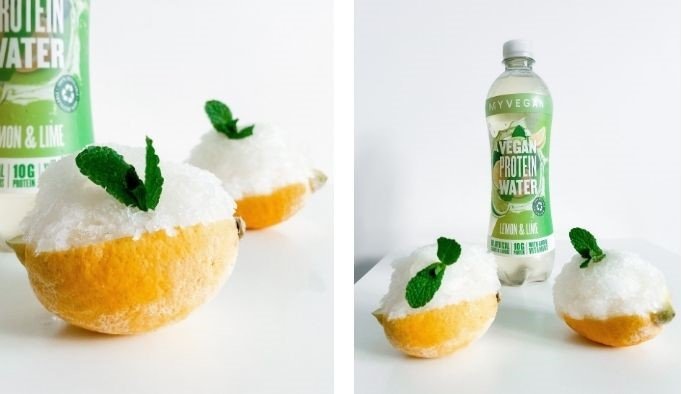 The main ingredient used in this recipe is our Lemon & Lime Protein Water, which is a refreshing alternative to creamy protein shakes. Each bottle packs in 10g of protein, making it easier to meet your daily requirements, and support the growth and maintenance of muscle. And if that wasn't sweet enough, it's loaded with B vitamins, including B6 to reduce feelings of tiredness and fatigue, and B12 to support your immune system.
Lemon & Lime Protein Granita Recipe
Serves 5 
Ingredients
75g caster sugar

 

70ml freshly squeezed lemon

 

(Mint leaves- optional)

 
Method
Place the ingredients into medium sized pan over medium heat, and stir just until sugar is completely dissolved. Remove from heat, allow to cool.

 

If serving in fresh lemons, scrape the flesh out and freeze the skins.

 

Place the mix into a shallow container and freeze for 40 minutes.

 

Every hour, scrape the mix

ture 

with a fork until

 it

 comes together like a 

slush

y

 

Repeat 4-5 times

 

Serve immediately in chilled glasses or frozen