Tofu Satay Skewers with Peanut Sauce
Jam-packed with flavour and easy to make, these Tofu Satay Skewers make the perfect dinner. Cooked on a griddle pan or on the BBQ, this tasty recipe is one to impress friends and family. No satay dish is complete without a nutty companion – this is why we have included a delicious peanut marinade to top off this recipe.
What is Tofu?
Tofu, essentially soya bean curd, has significantly increased in popularity over the last 10 years. This plant-protein source is extremely versatile and can be added into many dishes in many forms, such as scrambled or fried.
Is Tofu good for you?
Not only is tofu rich in protein, but it also has several other health benefits. Tofu is packed with calcium, magnesium and iron, essential for reducing fatigue, supports low blood pressure and bone health.1,2 Tofu is also low in saturated fat and is a great low-carb option!2
Tofu Satay Skewers with Peanut Sauce Recipe
You will need skewers for this recipe if wooden then soak in cold water whilst you prepare the tofu to avoid the skewers from burning.
Prep Time, Cook Time & Serving Size
Prep Time: 10 Minutes
Cook Time: 20 Minutes
Serves: 4
Ingredients
For The Marinade
2 Cloves Garlic (peeled & crushed)
1 Tsp Fresh Ginger (peeled & grated)
2 Tbsp Dark Soy Sauce
3 Tbsp Honey (or Agave)
3 Tbsp Sesame Oil
3 Tbsp Medium Curry Powder
800g Tofu (sliced into 2-inch pieces)
To Finish The Sauce
To Garnish
60g Spring Onions (sliced)
50g Dry Roasted Peanuts (crushed)
Method
Mix all the marinade ingredients together apart from the tofu, Set half of this to one side for later. Add the tofu to the rest and leave to marinate in the fridge for at least 2 hours or ideally overnight.
Remove from the fridge and thread the tofu on to skewers. Discard the used tofu marinade, keeping the half you reserved.
Put the skewers on a grill pan and place under a hot grill and cook for about 10-15 minutes, turning regularly, until they start to caramelise slightly at the edge.
Whilst the tofu is cooking, put the saved marinade into a small pan and allow it to come to a gentle boil over medium-high heat for 5 minutes to reduce slightly and thicken.
Add the coconut milk and the peanut butter to the sauce and give it a good mix with a whisk till the peanut butter has blended with the sauce and isn't lumpy, continue to cook for 5-10 minutes until thickened.
Serve the skewers and sauce together, finish them with a sprinkle of the spring onions and crushed peanuts! Delicious!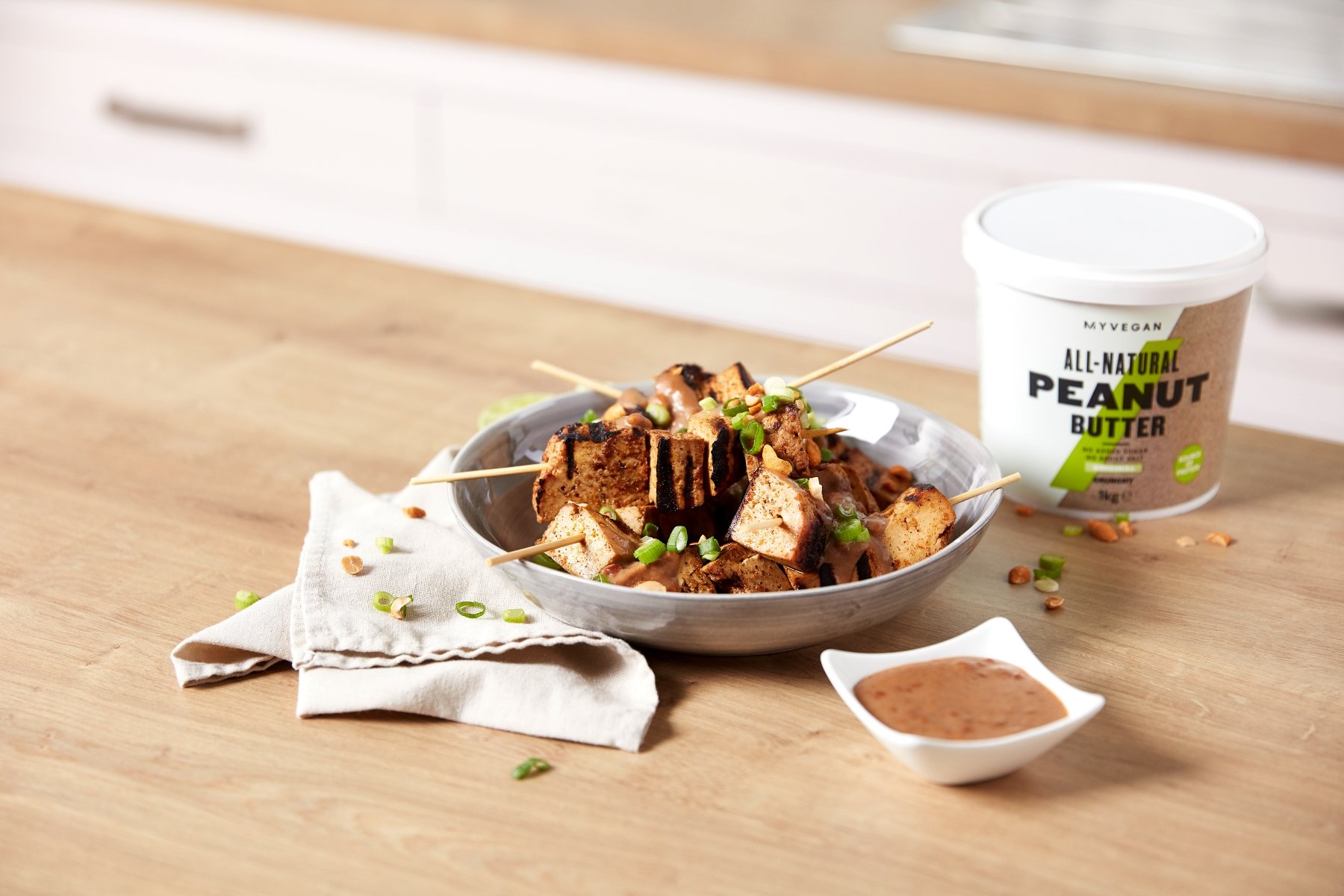 Tips, Tricks & Storage
Store any leftovers in some tupperware for ultimate freshness.
When purchasing tofu, go for an extra firm one. Alternatively, make sure you press out as much water as you can! You don't want the tofu to fall apart.