Recipe by Maria (@mimismacros)
Healthy treats that don't taste healthy. Isn't that like everyone's end game? This edible vegan brownie batter is the ultimate indulgence: smooth, thick like fudge, sweet and decadent, and the perfect no-bake dessert to make in a pinch. Yep, you only need 5 minutes!
Made with just a handful of delicious, plant-based ingredients and topped with our NEW Double Dough Brownie – this indulgent-tasting dessert actually packs in 20g of protein and 15g of fibre per serving. Talk about a tasty way to support your gains…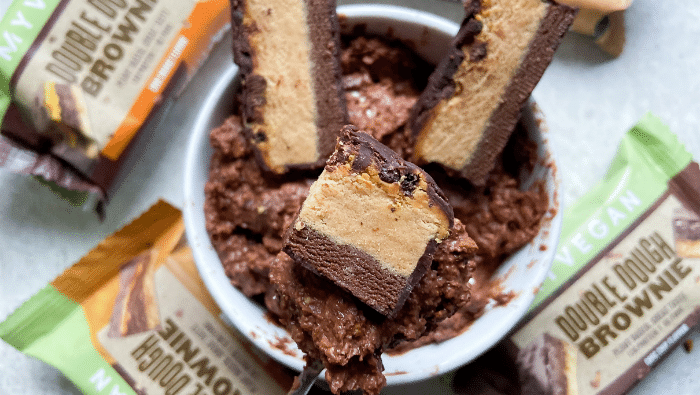 Vegan Brownie Batter Recipe (Serves 2)
Ingredients
125g chickpeas
25g plant milk
1 tsp vanilla extract
1 tsp cinnamon
3g FlavDrops
Toppings:
Method
Blend the chickpeas, milk, vanilla extract, syrup and peanut butter until smooth.
Add the oats, cinnamon and cacao powder until a dough forms.
Taste the dough and add sweetener to your desired taste.
Top with chopped Double Dough Brownie.