Can't kick those sweet cravings? Don't worry, this high-protein vegan jelly is the perfect way to enjoy a treat without the cheat.
---
Boosted with a few scoops of our Clear Vegan Protein Powder, this recipe is ideal for an instant way to recharge and cool down post-workout. Not only does it provide a helpful hit of plant protein and essential B vitamins, this vegan jelly delivers a delicious fruity flavour whilst containing absolutely no added sugar – perfect if you're looking to cut down on your intake and support your fitness progress.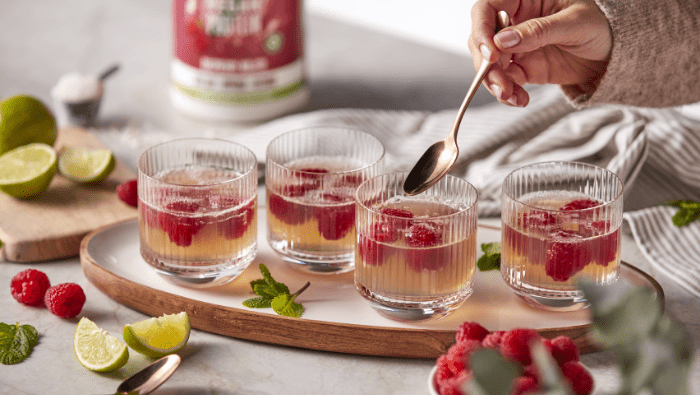 Using only 3 simple ingredients, it's pretty simple to whip up a batch and keep in the fridge for whenever those cravings come calling. Why not give it a go and let us know what you think?
High-Protein Jelly Recipe
Ingredients
Method
Add 2.5 servings (40g) of Clear Vegan Protein to 750ml of cold water and shake well to dissolve the powder.

 

Add the Clear Vegan Protein juice and agar agar into a medium-sized saucepan and stir.

 

Turn on heat to medium and stir frequently with a whisk.

 

When the mixture begins to boil, turn the heat down and let it boil slowly for 5 minutes stirring occasionally.

 

Pour the mixture into individual serving glasses, along with the raspberries.

 

Refrigerate for at least 1-2 hours, best overnight.