The mighty Jammie Dodger. A staple tea time biscuit that we cannot resist. Our homemade version makes a delicious yet healthier alternative to the classic – and you're sure to come back to it time and time again.
With this easy recipe, you can enjoy a batch of freshly baked Jammie Dodgers in no time at all. They're the perfect partner for a cuppa on your mid-morning break, or for satisfying your sweet-tooth cravings after dinner. With a few simple switches, like using Sugar-Free Maple Syrup to naturally sweeten and Organic Chia Seeds to thicken the jam, you can easily keep sugar content down while satisfying your sweet-tooth.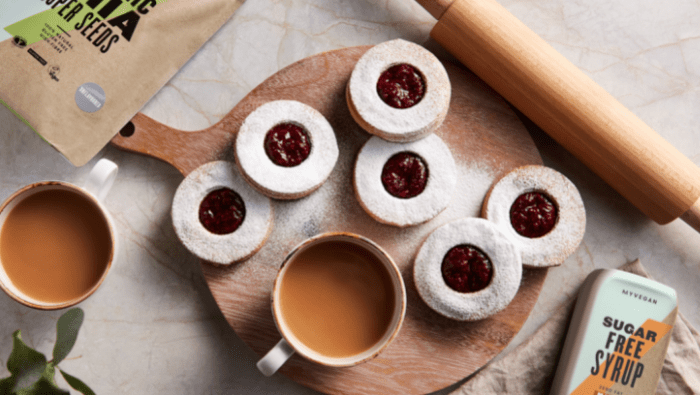 The perfect treat to enjoy if you're looking to stay on track, why not whip up a batch this weekend? Check out the full recipe below…
Homemade Jammie Dodgers Recipe
Ingredients
For the cookies: 
500g ground almonds

(Ingredient quantities are fine for this recipe)

 

2 tablespoons of melted coconut oil

 

4 tablespoons of buckwheat flour

 

12 tablespoons of Sugar-Free Maple Syrup
For the raspberry jam: 
Method
Preheat oven to 180C (350F), fan setting.

 

Place all of the biscuit ingredients into a food processor and pulse until smooth. Roll the dough into a ball and place in the fridge for at least 30 minutes.

 

After 30 minutes, remove the dough from the fridge and sprinkle some flour over your work surface.

 

Roll the dough out to about 1cm thickness and begin to cut biscuit shapes out – Half with a little hole in the middle and half without.

Once you've used all of the dough, place the biscuits onto a lined baking tray and bake for 10 minutes until golden.

 

Make the jam by placing all of the ingredients into a pan, over a medium heat and cook for 10 minutes. Remove from the heat and pout onto a lined baking tray – set aside in the fridge for 15-30 minutes to set. –

(leave in the pan and set a side to cool)

 

Once everything has cooled, place a spoonful of the strawberry and chia jam onto the biscuit (without a hole in it) and place the second biscuit (with the hole) on top and lightly press together. Once all biscuits are assembled serve and enjoy!