Want to stay on top of your health goals without giving up chocolate? Look no further than these vegan Chocolate & Walnut Protein Brownies!  
---
These healthy vegan brownies are made using a handful of delicious, yet nutritious ingredients, so you can satisfy your sweet cravings and level-up your coffee break – no matter what your goals are.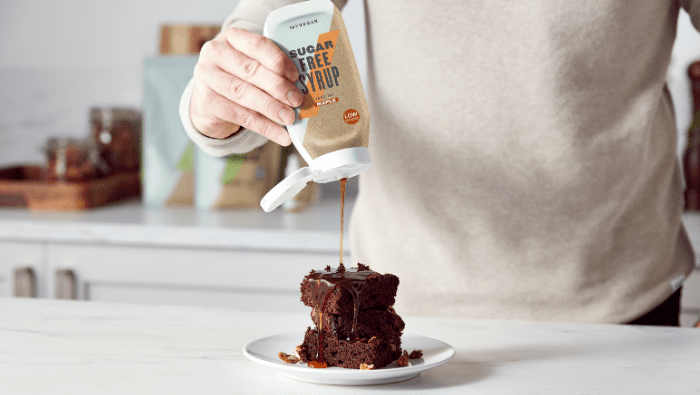 Our Organic Cacao Powder creates a deep, rich flavour – whilst providing key micronutrients to help your body thrive. These micronutrients include copper, magnesium and iron, all of which play an important role in maintaining a healthy metabolism. Iron is also a fantastic way to support the immune system, and reduce feelings of tiredness and fatigue.  
And if that wasn't enough to tempt you, our Chocolate Soy Protein contains all the essential amino acids and 27g of protein per serving! Therefore, these healthy vegan brownies are a convenient way to hit your daily protein requirements, and support muscle growth and maintenance.
This recipe is completely dairy-free and using a secret ingredient as a substitute for butter and eggs – applesauce! It works as an excellent binder and adds extra flavour and moisture to the brownies. Applesauce also has reduced calories and reduced fat compared to dairy ingredients like butter and eggs.
In just a few simple steps, you'll have a whole tray of gooey, chocolatey treats (that taste even better than the shop-bought kind!).
Chocolate & Walnut Protein Brownies Recipe
Method
Position the rack in the middle of the oven and heat to 180C. Coat an 8-by-8-inch square baking dish with vegetable oil and set aside.

Sift the flour, sugar, Organic Cacao Powder, baking powder, Chocolate Soy Protein Isolate and salt in a medium bowl to aerate and combine. 

Place the applesauce, Sugar-Free Maple Syrup, non-dairy milk, measured oil and Vanilla FlavDrops in a large bowl and whisk to combine.

Add the wet ingredients to the flour mixture and fold with a rubber spatula until just combined (do not overmix). Fold in the chocolate chips and walnuts (if using).

Scrape the batter into the prepared baking dish and smooth out the top.

Bake in the oven for around 35 minutes (until a knife comes out clean). Place the baking dish on a wire rack to cool for at least 30 minutes before serving. If not serving straight away, cool completely, cover tightly, and store at room temperature.