Last Updated:
26/04/2023
Walnut Chocolate Brownies | Vegan Recipes
When that sweet craving hits, sometimes a piece of fruit or low calorie chocolate bar just doesn't cut it. These walnut chocolate brownies contain protein which can help keep you feeling full; but don't be fooled! These brownies are chocolatey, fudgy, and decadent; perfect for that satisfying the mid-afternoon slump or post-dinner sweet treat.
What Are Walnut Chocolate Brownies?
These brownies contain cacao powder, which contains natural antioxidants, and gives the brownies a rich, chocolatey taste. Melted chocolate is also added to make these brownies feel even more decadent! The walnuts provide texture and balance out all of that chocolatey flavour.
Can You Make Brownies Without Eggs?
Eggs are typically a staple ingredient in brownie recipes (along with dairy-filled butter and chocolate). However, this recipe uses a vegan egg replacer in a powdered form, or as a flaxseed or chia egg. These vegan egg alternatives are essential for creating that fudgy brownie texture we know and love.
Why You'll Love This Recipe
This recipe makes a decadent and fudgy brownie; not only will this satisfy your sweet tooth, but each brownie contains 7g of protein!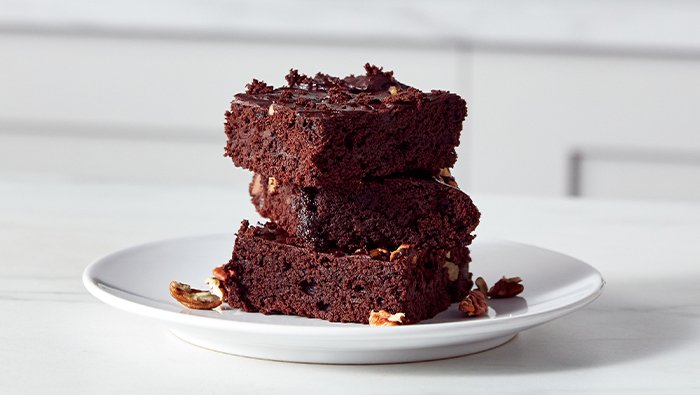 How To Make Walnut Chocolate Brownies
These brownies are simple to make and contain ingredients that can be found in most store cupboards. The most important step in making these brownies is leaving them to cool in the tin, as this is what helps to create the fudgy texture! This recipe makes 10 brownies.
Equipment You'll Need
Oven
Microwave
Microwave safe bowl
Small bowl
Large mixing bowl
Wooden spoon or spatula
Weighing scales
Measuring jug
Teaspoon
Tablespoon
Knife
Chopping board
Loaf tin or brownie tin
Greaseproof paper
Ingredients
100g plain flour
50g chocolate Vegan Protein Blend
100g soft light brown sugar
50g walnut pieces
50g vegan butter
100g vegan dark chocolate
1tsp vegan egg substitute mixed with 1tbsp, or 1tbsp flaxseed powder mixed with 2tbsp water
200-250ml almond milk