This green smoothie is packed with fresh fruit and nutritious peas – perfect as a refreshing drink to wake you up in the morning or after a workout for a boost of plant protein.
Pea protein is known as one of the best proteins to include in the diet as it provides a source of complete protein, meaning it contains all 9 essential amino acids. The Pea Protein Isolate used in this smoothie recipe is also great for those with specific dietary requirements as it is  completely free from soy, gluten, nut or dairy-containing ingredients.
Each serving of Pea Protein Isolate provides 21g of quality plant-based protein which makes this smoothie perfect as a post-workout drink to supply your muscles with the building blocks they need for new muscle growth and repair.1
As well as providing fantastic nutritional benefits, the peas also give this smoothie it's natural vibrant green colour.
The lime and ginger give this smoothie it's "zingy" kick to help you feel energised whilst the cucumber and apple give it a refreshing sweetness, that's also packed with nutrients! Apples are high in vitamin C which is known to support the immune system, nervous system and help reduce feelings of tiredness and fatigue.2,3,4
This green smoothie recipe is incredibly easy to make and a great way to give yourself a nutritious and energising, plant-based pick-me-up.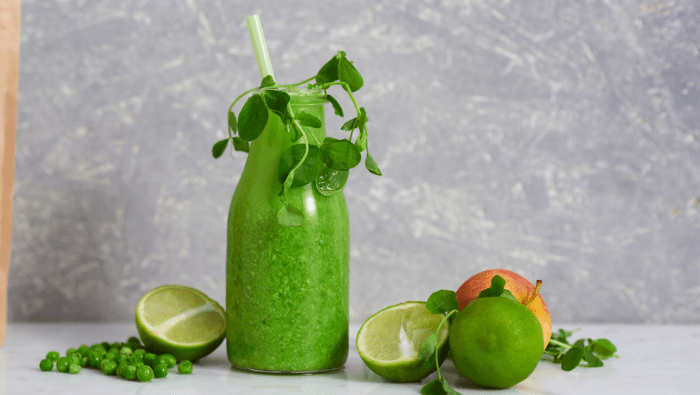 Energising Green Pea Protein Smoothie Recipe
Makes: 1 smoothie
Calories: 309      Protein: 27g        Fat: 2g       Carbs: 53g
Ingredients
 1 scoop Unflavoured Pea Protein Isolate
½ thumb fresh ginger
50g cooked garden peas
1 green apple
1 pear
½ lime (juice and zest)
¼ cucumber
150ml water
Method
1. Prepare your ingredients by removing the core from the apple and pear.
2. Then, simply add all the ingredients to a blender and process until smooth.
3. You can add ice or freeze the cooked peas and prepared fruit for an extra-chilled smoothie.
Enjoy!