These guys are our favourite party trick. They come together in a matter of minutes, but have enough richness to convince a crowd that countless hours of time and effort went into making them.
But what's more is, they're a great source of plant protein and made with all healthy ingredients – including our All-Natural Peanut Butter – so you can enjoy a sweet treat this Christmas, without compromising your goals.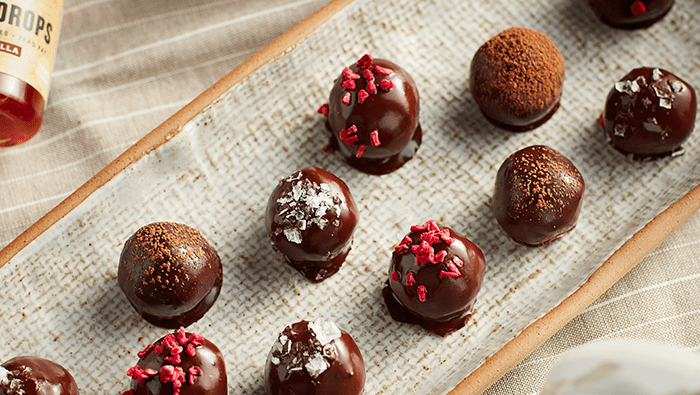 Craving something indulgent? Put down that box of chocolates and pick up that mixing bowl – these delicious peanut butter truffles will blow you (and your loved ones) away!
Peanut Butter Truffles Recipe
Ingredients
To coat: 
200g dark chocolate, finely chopped

 

2 tablespoons coconut oil

 
To decorate: 
Freeze-dried raspberries

 

Sprinkle of sea salt

 
Method: 
In a large mixing bowl, stir together the peanut butter, maple syrup and vanilla until well combined. Stir through the coconut flour and salt, adding one tablespoon of coconut flour at a time and mixing until you're able to handle the truffle filling (it shouldn't be sticky, and you should be able to roll it into balls).

 

Roll the mixture into balls (around 2 teaspoons of mixture at a time to do this), then set on a lined baking tray and place in the fridge to firm up overnight.

 

Once truffles are firm, gently melt dark chocolate and coconut oil together. Stir until smooth.

 

Dunk each truffle into the melted chocolate, ensuring all sides are coated. Place onto baking paper to set, then sprinkle over chopped nuts, freeze-dried raspberries and sea salt.