Recipe by Maria AKA @mimismacros
Transform your popcorn into a fun and cute treat!
These Popcorn Bunnies put a seasonal Springtime twist on the classic Rice Krispie treat! For all you popcorn lovers this will be right up your street.
This recipe is vegan, dairy-free, refined sugar-free and gluten-free.
The main popcorn part of this snack is made with just 3 simple ingredients which are all natural and plant-based. They create amazing puffy bites that are sweet with a little saltiness – perfect for those who love their popcorn half-and-half.
The Soy Protein Isolate adds a delicious vanilla flavour to the mix and boosts the snack with 6g of plant-based protein per Popcorn Bunny,
Classic Rice Crispy recipes often use marshmallow for that firm chewiness, however this version goes without which makes them vegan-friendly and healthier! The marshmallow alternative is to mix peanut butter with a sweetener, however if you want to keep these bunnies with white fur, leave out the peanut butter. It works just as well and they are still deliciously chewy!
These Protein Popcorn Bunnies are really easy to make and are a fun home-baking activity to do with friends or family.
You can use this recipe to make popcorn sheep or even furbies! Get creative and see what you can make!
Any leftover mixture doesn't need to go to waste either! It can be stored in the fridge and doubles up as a delicious dairy-free protein spread.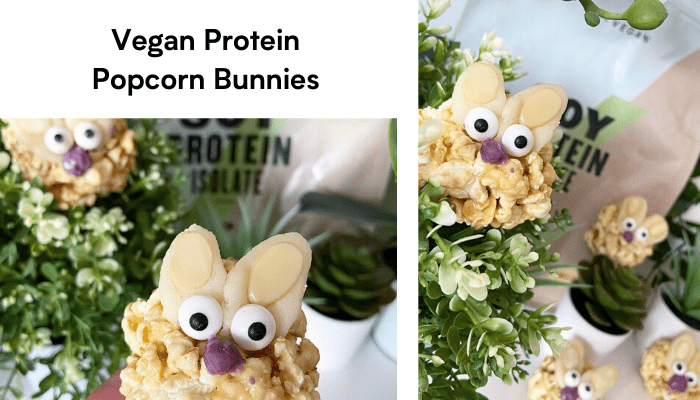 Vegan Protein Popcorn Bunnies Recipe
Serving size: 1 bunny (recipe makes 6)
Macros: 94 kcal | FAT: 3g | CHO: 12g | PRO: 6g
Ingredients
To Decorate:
marzipan
sliced almonds
frozen berries
Method
Heat the Maple Syrup and mix in the Soy Protein Isolate well. Set a little aside for the decorations later.
Add in the popcorn and stir it together to create your mix.
Using a spoon and your hands, create small balls from the mixture to create the body of the bunny. This is easiest to do whilst the mixture is still warm.
Set the balls of popcorn mix onto a plate or tray to cool.
Decorate your Popcorn Bunnies by creating the ears out of marzipan and sliced almonds.
To create the pink nose, heat some frozen berries and combine it with a little of the  the original syrup and protein mixture. This helps to reduce the level of sweetness from the sourness of the berries and the combined taste and texture of the mix is just like ruby chocolate.
Use some of the leftover syrup and protein mixture as "glue" to help stick on your decorations.
Add the eyes using sugared eyes or making them from icing.