Get creative at home this Christmas with these adorable and tasty miniature Christmas puddings.
---
Recipe by Maria Devine (@mimismacros)
Everything is cuter when it's in miniature form – and these Christmas puds are no exception! These bite-size festive treats go perfectly with an afternoon tea or coffee, and would even make a fun home-made gift.
They are simple to make with no baking time needed, but will be sure to impress anyone who sees (or tastes) them.
Made with plant-based ingredients, this recipe is:
Nut free
Gluten free
dairy free
The Chocolate Vegan Protein Blend adds a boost of plant-based protein whilst the Organic Cacao Powder provides a natural source of essential minerals such as potassium, magnesium, iron, copper and manganese.
The delicious chocolate flavours from the protein blend and raw cacao powder are complemented by the fruity sweetness of the orange and cranberry juice.
Not only do these taste great, but they're incredibly fun to make! Next wintery afternoon, roll up your sleeves and get decorating your own Christmas-themed snacks.
Top Tip: Let the mixture set a little in the fridge before rolling, and roll with damp hands to prevent the mixture being too sticky.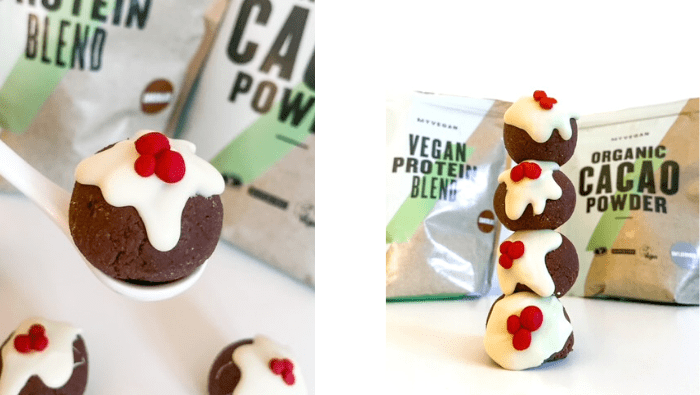 Mini Vegan Christmas Pudding Protein Balls
Serves 10
Nutritional information (per serving): 97kcal • 14g carbs • 2g fat • 4g protein
Ingredients:
135g mixed fruit
60ml fresh orange juice
60ml cranberry juice
2 tbsp. Organic Cacao Powder
40g coconut flour (or almond/oat)
1 tsp. orange extract
40g dairy-free white chocolate
Red fondant icing (to make the berries)
Method:
Add the mixed dried fruit, cranberry juice, orange juice and orange extract to a bowl.
Microwave for 1 minute to soften and then blend the mixture.
Fold in the Organic Cacao Powder, Vegan Protein Blend and the coconut flour until mixed together.
Using your hands, roll the mixture into small balls and top with melted white chocolate and red icing.