Whilst some people may like to group fruit and veg in one vast category of food that is "too healthy" and probably won't taste good, this couldn't be further from the truth. There are thousands of different types of fruit and vegetables, all with extremely different tastes, textures and nutritional profiles.
Anyone who wonders "what do vegans eat anyway?", the answer is "almost everything"! As well as nutritious plant-based ingredients, the rise in popularity of vegan diets has meant that there are now vegan substitutes for almost every meat and dairy product out there – from plant-based milks and yoghurt, to burgers and even gooey salted caramel chocolate cookies.
With such a wide range of ingredients, it can be hard to know where to begin when it comes to creating your own vegan meals from scratch. We have compiled the ultimate vegan food list to help you on your next shopping trip. There are lots of great vegan recipes in cookbooks and online which provide great inspiration for meals.
Find the vegan foods you need from the list below. You can select a few from each category and change it up the following week – the combinations of delicious plant-based meals are endless!
Vegan Food List for Beginners | Top Vegan Substitutes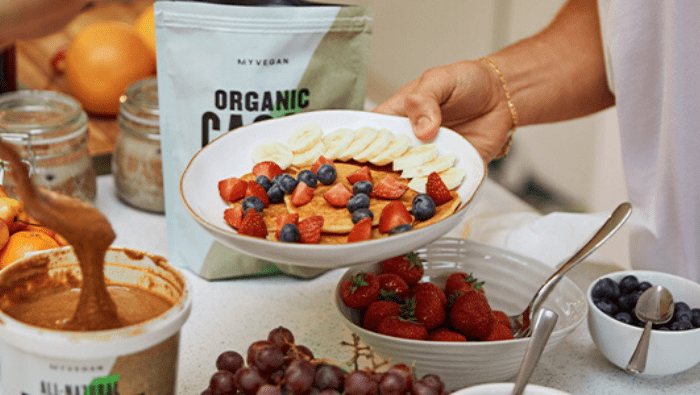 1. Fruits
Fruits are the base of many vegan sweet smoothies, juices and desserts. If you have a sweet tooth, you can curb those cravings by snacking on berries or citrus fruits. Dried fruit is high in fibre and is great used as a topping, in baking, and as a snack.
Try to shop based on what is in season to find the freshest and most sustainably sourced fruit. Shopping in season also means fruit and vegetables will likely be cheaper, although many such as carrots, potatoes, apples, and bananas, make great affordable staples most of the year. Freezing fruit is a great way to preserve fresh produce until you need it plus it can be added straight into smoothies for an ice-cold refreshing drink.
Citrus fruits (e.g. oranges, nectarines, grapefruit, lemons, limes)
Apples
Bananas
Pears
Kiwis
Peaches
Apricots
Plums
Mangoes
Melon (e.g. watermelon, honeydew, cantaloupe)
Grapes
Cherries
Berries (e.g. strawberries, blueberries, raspberries, and blackberries)
Dried fruits (e.g. raisins, currents, cranberries, dates, and figs)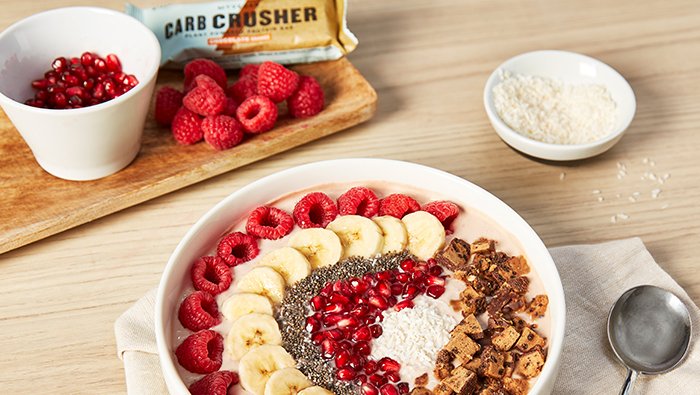 2. Vegetables
Along with fruit, vegetables are an important part of a balanced, healthy diet as they provide essential vitamins and minerals which the body requires to carry out it's normal physiological function. For example, spinach is a source of vitamin K, vitamin A, vitamin C, magnesium, iron, and calcium. Vitamin K plays a role in the body's ability to regulate calcium levels which in turn can have an effect on bone and cardiovascular health.1
Also, like fruit, it is good to shop in season where possible to ensure you have the freshest, most affordable and most sustainable foods. Many vegetables can be eaten raw in salads, or can be cooked in a variety of meals including soups, stews, curries, and stir-frys.
Avocado
Bell peppers
Broccoli
Tomatoes
Cucumbers
Carrots
Celery
Cauliflower
Snap peas
Courgette
Butternut squash
Mushrooms
Kale
Garlic
Onions
Spinach
Salad/lettuce
3. Grains and starchy foods
Wholegrain products and other starchy foods such as potatoes and bread are a great source of carbohydrates and tend to be high in fibre. They are mixed and matched with vegetables, beans and soy products to create complete meals. Oatmeal is an easy way to have a nutritious and easy breakfast although aim to buy rolled or steel-cut oats and avoid instant oatmeal packets which tend to have added sugars and sweeteners. Always have at least one type of wholegrain or wheat product in the cupboard to act as a base for meals. Some examples include:
Bread
Wraps
Pittas
Bagels
Pasta
Oatmeal (quick, rolled, or steel-cut)
Brown rice
Quinoa
Potatoes
Seitan (wheat gluten)
4. Healthy Fats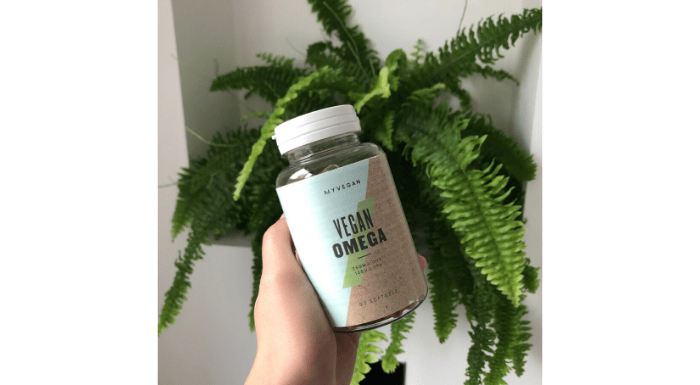 Healthy fats are a very important part of any diet, including a vegan one. Omega-3 and omega-6 essential fatty acids such as EPA (eicosapentaenoic acid) and DHA (docosahexaenoic acid) play important roles in the normal function of the heart. DHA also supports the maintenance of normal function in the braind as well as normal vision. Whilst omegas have traditionally been associated with fish and fish oils, the body can convert alpha-linolenic acid (AHA), an omega-3 fatty acid into DHA and EPA. This can be found in many plant-based foods such as flaxseed and walnuts. An even easier way to ensure you have enough omega fatty acids in your diet is to take a vegan omega supplement made from microalgae.
Include a wide variety of foods high in healthy fats to have a good balance of omega-3 and omega-6 essential fatty acids. Foods such as avocado, olives, dark chocolate, and seeds and nuts make fantastic snacks, whilst nut butters such as peanut butter are a cupboard staple that can be used in cooking, smoothies and as a topping.
Avocado
Edamame beans
Olives
Coconut milk
Dark chocolate
Hummus
Plant-based oils (e.g. coconut oil, olive oil, flax seed oil, sesame oil, canola oil)
Vegan margarine
Nut butters (e.g. cashew, peanut, almond butter)
Nuts (e.g. almonds, cashews, walnuts, pecans
Seeds (e.g. sunflower, pumpkin, chia, flax, sesame seeds)
5. Plant-based milk alternatives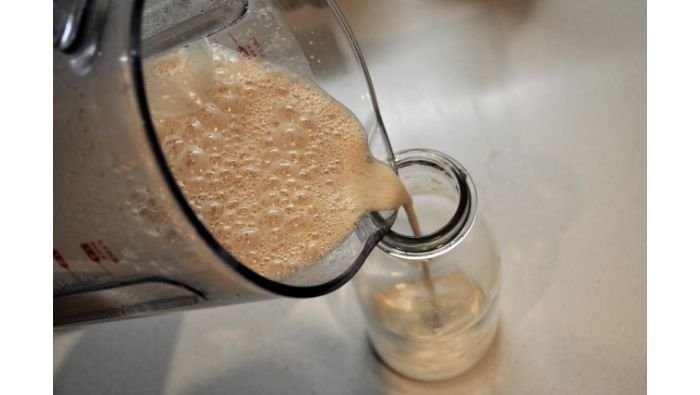 It is now easy to find a range of different plant-based dairy alternatives to use in cooking and baking. Plant-based milks are made from a variety of sources creating a variety of different tastes to suit different preferences. For example, cashew milk tends to be creamier than soy milk, and coconut milk has a different taste to almond milk. Many plant-based milks come sweetened or unsweetened which also helps when it comes to finding the right milk for
Choose 1 unsweetened non-dairy milk for all-purpose use in savoury cooking, baking, and smoothies. Choose 1 great tasting non-dairy milk to add to tea, coffee, or for enjoying straight. Choose whichever plant-based milk you enjoy the flavour of most. Soy milk is great because it's high in protein and mimics the nutritional profile of cow's milk. Vanilla, chocolate or other flavours are great for sweetening and flavouring coffee.
You can even make your own plant-based milk using simply nut butter such as peanut butter using this nut milk recipe.
Soy milk
Oat milk
Almond milk
Cashew milk
Hemp milk
Coconut milk
Rice milk
Flax milk