Sneak veggies into any meal with these quick and crispy sweetcorn fritters that come together in minutes, and pair perfectly with a cool dollop of vegan sour cream or yoghurt.
Perfect for breakfast, lunch or dinner – these fritters are perfect to make in batches so you can have them on standby whenever you're pushed for time.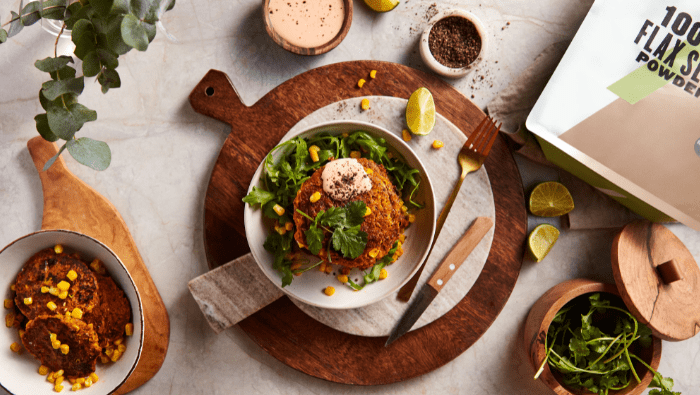 The setup on this one is extra-simple: blend all of the ingredients together until a chunky mixture forms, then scoop into a hot pan and wait for the crackling to cue you to flip 'em.
The veggies soften lightly in the centers, while the exteriors get golden and crispy. Once you remove them from the pan, be sure to give them a quick sprinkling of salt while they're still hot to ensure the seasoning sticks.
All that's left to do is decide on your topping of choice. A dollop of tangy vegan sour cream or refreshing yogurt work great, but don't hesitate to talk a walk on the sweet side with applesauce!
Ingredients
2 cans 100 g sweetcorn 
4 sliced spring onions
4 tbsp. gram flour
1 tsp. paprika
Handful of chopped fresh coriander
1/2 juice of a lime
1 tbsp. olive oil and extra for frying
Pinch of salt
Pinch of pepper
1 tbsp. 100% Flax Seed Powder
Method
Place 1 can of drained sweetcorn, the spring onions, coriander, gram flour, paprika, oilve oil, water, lime juice and a pinch of salt and pepper into a food processor and blend until a chunky mixture forms.

Once the mixture has come together, mix through the remaining sweetcorn.

Heat a drizzle of olive oil in a pan over a medium heat. Once warm, add a large tablespoon of the fritter mixture, smoothing it out using a wooden spoon.

Cook for about 2-3 minutes each side, until the fritters are golden brown. You will need to do this in batches.