Some days, you just need a burger. If today is one of those days, we're here for you.
---
These vegan hemp burgers may have a modest name but the flavor and texture are anything but. They're tender without being mushy, not too sweet, not too salty, hearty, and seriously satisfying.
Containing a handful of wholesome, plant-based ingredients – including our chickpeas, Organic Hemp Seeds and 100% Flax Seed Powder – making your own burgers is the perfect way to stay on top of exactly what goes into them and boost the flavour with all your seasonings.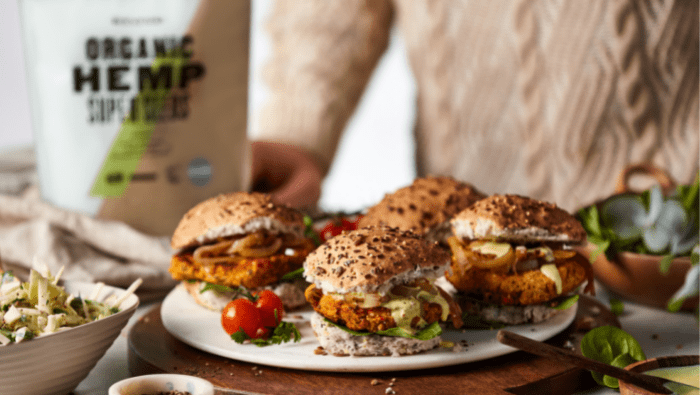 Whether you've been trapped back-to-back meetings, smashed out a new PB at the gym, or a week of intense training has just caught up with you… this recipe is sure to do the trick.
Hemp Burgers Recipe
Ingredients
1 medium sweet potato (skin on)
1 can chickpeas (drained)
2 stalks green onion (root ends removed and chopped)
100 g Organic Hemp Seeds
1 tbsp. 100% Flax Seed Powder
2 cloves garlic (chopped and peeled)
50 g bread crumbs
2 tbsp. nutritional yeast flakes
1 tbsp. salt
Method
Wash the sweet potato and prick with a fork several times. Place in the microwave and cook for 2 to 3 minutes until tender. Let it sit until cool enough to handle, then chop into cubes with the skin on.

Place sweet potato chunks and drained chickpeas in a food processor together. Pulse in short bursts until mostly combined, leaving some texture.

Reserve 2 tablespoons of the hemp seeds. Then add the remaining hemp seeds and the rest of the ingredients to the food processor. Pulse in short bursts until combined.

Place a skillet over a medium heat and heat oil.

Make four patties out of the mixture, pressing some of the reserved hemp seeds into both sides of the patties. Cook the patties for 5 minutes on each side until brown. Turn the head down to low and allow the burgers to sit for 5 to ten minutes in the warm skillet to firm up.

Serve patties on buns with your favourite burger toppings!