This Green Superfood Salad is where we'll be if you need us this Spring or Summer.
---
Craving a burger, but also a salad? This Green Superfood Salad is the best of both worlds! Created in collaboration with our friends at Moving Mountains, it's super satisfying, light and loaded with goodness.
The best part about this recipe is that you can have this meal on the table in 15 minutes or less, and it's completely customisable so be sure to take advantage of what you have on hand right now. Reducing food waste and getting lunch or dinner on the table quickly has never tasted so good!
What are the key ingredients in this recipe?
Myvegan Organic Chia Seeds: These small but mighty seeds are naturally high in fibre, protein and omega 5-6-9 fatty acids.
Myvegan Organic Hemp Super Seeds: A natural source of protein and potassium which contributes to normal functioning muscles and nervous system.
Moving Mountains' Plant-Based Burger: Praised by top chefs across the country, this burger is packed with plant protein and irresistible juiciness.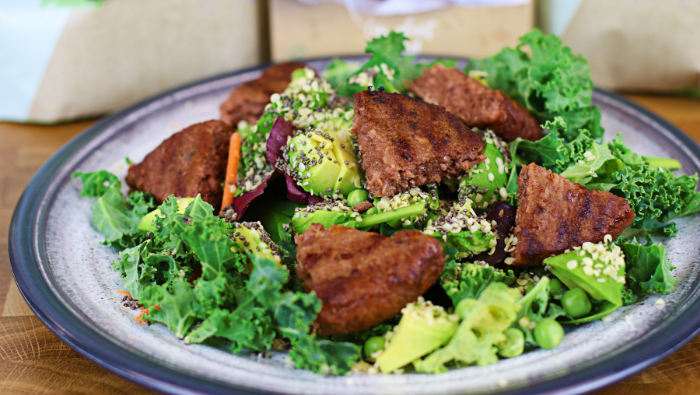 Green Superfood Salad Recipe
Serves: 2 | Prep time: 5 minutes | Cook time: 10 minutes
Ingredients:
2 Moving Mountains burgers
1 tbsp Myvegan Organic Hemp Seeds
1 tbsp Myvegan Organic Chia Seeds
2 handfuls of mixed salad leaves
2 handfuls of kale
1 avocado
Fresh petit pois
1 grated carrot
Dress with extra virgin olive oil (or salad dressing of your choice!).
Method:
Start with cooking the burgers. Warm up the oil in a small frying pan over a medium heat. Add the burgers and cook for about 3/4 minutes on each side, flipping regularly.
Whilst your burgers cook, prepare your salad mix. Mix your salad leaves, kale, grated carrot, petit pois and sliced avocado in a large bowl with a drizzle of extra virgin olive oil.
When the burgers are cooked through, slice and serve on top of your salad. Top with your Myvegan Organic Hemp and Chia Seeds and another drizzle of olive oil.
Summer is served!