Introducing your go-to sugar-free popsicle recipe.
Ever craved something sweet but trying to avoid sugar-packed ice creams? Or maybe you fancy something light or refreshing? This ice lolly recipe uses fresh fruit and BCAA powder to create healthy popsicles you can make easily at home.
BCAAs or 'Branched Chain Amino Acids' are a specific type of essential amino acids that make up many of the different proteins found in the body. There are 3 BCAAs: leucine, isoleucine and valine, and they are termed "essential" because they cannot be made in the body so must be obtained in the diet.
These ice lollies are a refreshing and tasty way to support your muscles with the building blocks they need, whilst enjoying a naturally sweet treat at the same time.1

The Raspberry Lemonade BCAA powder contains beetroot concentrate which helps to give these ice lollies their vibrant pink colour.
Each serving of BCAA also contains extracts of panax notoginseng (also known as 'Chinese Ginseng') which has long been used in traditional Chinese medicine for it's believed effects on inflammation and ageing.2
This recipe uses a simple 2-part layering process which results in the even distribution of fruit in the ice lolly – giving it an amazing marbled appearance (and so all the fruit doesn't sink to the bottom!).
Discover the full recipe below.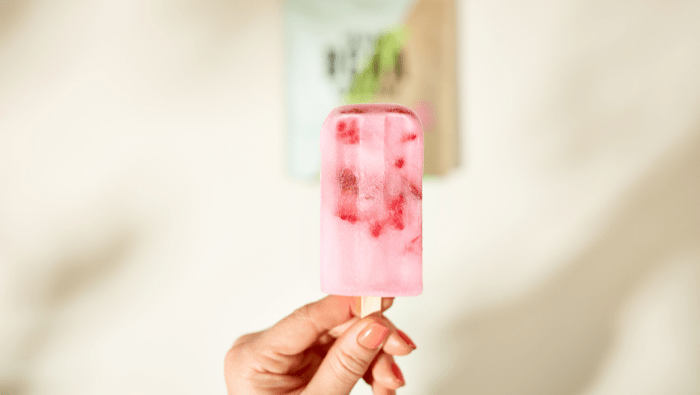 Mixed Berry BCAA Ice Lollies Recipe
Ingredients
1 serving BCAA Raspberry L

emonade

 

80g sliced Strawberries

 

100g Raspberries

 

2 x 200ml

water
Method
Mix one half serving (1/2 a scoop) of BCAA with 200ml of water.

 

Pour equal amounts of the BCAA mix into each mould.

Take half the strawberries and raspberries and push them to the bottom of the mould, then freeze for 1 hour.

Remove from freezer and repeat steps 1 & 2 for the rest of the BCAA.

Add the remaining mixed fruits and place back into the freezer for at least 3 hours.

Once ready, simply pop out of the mould and enjoy!

 
Protein contributes to the growth and maintenance of muscle mass.
Zhao H, Han Z, Li G, Zhang S, Luo Y. (2017). Therapeutic Potential and Cellular Mechanisms of Panax Notoginseng on Prevention of Aging and Cell Senescence-Associated Diseases. Aging Dis. 2017;8(6):721‐739.