Recipe by Maria AKA @mimismacros
This is one for the chocoholics AND coffee lovers.
No need for expensive chocolatier truffles when you have this recipe. The combination of cacao, coconut caramel and the espresso make these truffles the perfect decadent treat.
These truffles are rich, gooey and probably the most heavenly way to get a boost of protein in your diet.
Each espresso caramel truffle is vegan, gluten-free, refined sugar free and only 84kcal.
Use a truffle mould to form the perfect ball shape, however if you don't have one, don't worry – you can use any small mould trays you have or even ice-cube trays (they will just form different shaped chocolate treats but that's okay!).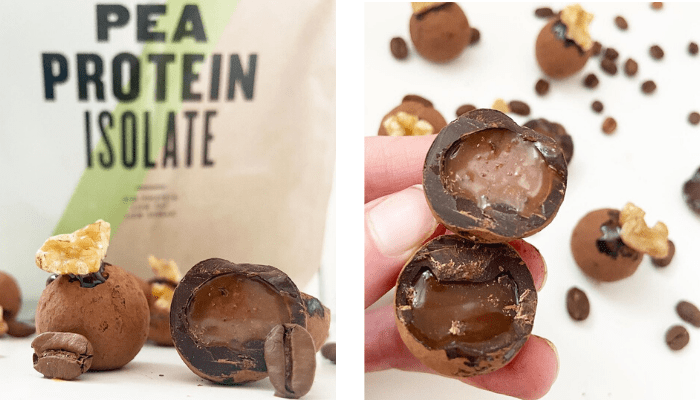 What's more, if you don't fancy making the actual truffles, you can still make just the protein caramel filling for an insanely tasty sauce to drizzle on nice-cream, fruit, or used as a frosting on baking.
You may not want to share these, but a box of these truffles also make a great home-made gift for friends or family – especially those with a sweet tooth!
Discover the full recipe for these luxurious balls of joy below.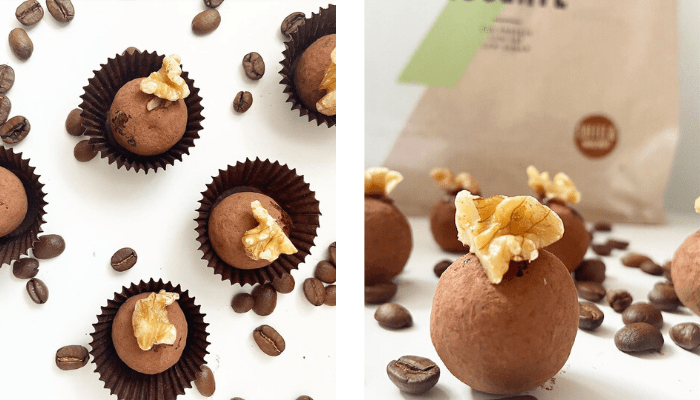 Espresso Caramel Protein Truffles Recipe
Macros – 1 of 20 truffles
84 kcal | FAT: 6g | CHO: 6g | PRO: 2g
Ingredients
Espresso caramel:
1 scoop Coffee and Walnut Pea Protein Isolate
3-4 tbsp coconut sugar
1-2 tbsp hot water
2 tbsp coconut oil
1-2 tbsp freshly ground espresso roast coffee
pinch sea salt
Chocolate coating:
Method
Begin by preparing the chocolate coating – melt the chocolate in a heat proof bowl and set aside to cool slightly.
Next, make the espresso caramel filling – in a small saucepan, heat together the hot water, coconut sugar and espresso powder until the sugar crystals have dissolved.
Remove from heat and add the coconut oil. Once the coconut oil has melted, take off the heat and leave to cool slightly.
Using a whisk, quickly stir in the Pea Protein powder and sea salt until it is smooth.
Leave a few minutes for the sauce to thicken to a sticky caramel consistency and then start assembling your truffles.
Scoop 1 tbsp. of the melted chocolate into each mould and place in the freezer for a minute or two to harden.
Remove from the freezer and add a layer of the espresso caramel filling followed by more chocolate.
Leave to set in the freezer for a few more minutes before coating the truffles in cacao powder and topping with walnut pieces.
Store in a tupperware in the fridge.
If you like this recipe, then you'll also love these other recipes for bite-size treats: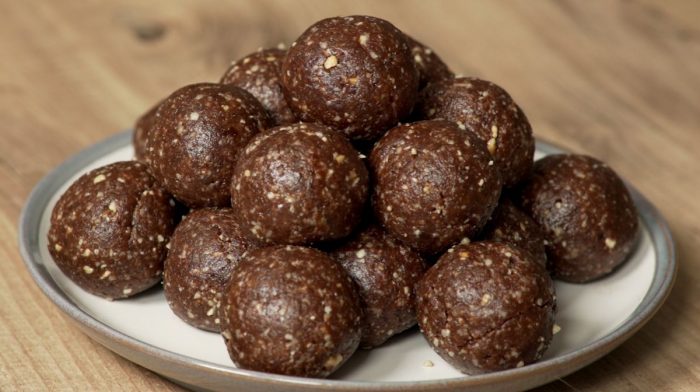 Small, bite-size treats packed with nutrients and natural flavours.
Bite-size sweets that are quick and easy to make.