Indulge in your favourite holiday drink with this decadent hot chocolate recipe.
---
Nothing quite beats a warm cup of hot chocolate on a cold wintery night. We've recreated a popular flavour by adding our new Chocolate Salted Caramel Vegan Protein Blend which not only adds the delicious salted caramel taste, but also a boost of 22g of plant-based protein!
This Salted Caramel Hot Chocolate is high in protein, and of course, completely vegan. The Sugar-Free Syrup used is a zero-sugar, fat-free alternative to traditional syrups, making it the perfect guilt-free topping for those who have an extra-sweet tooth.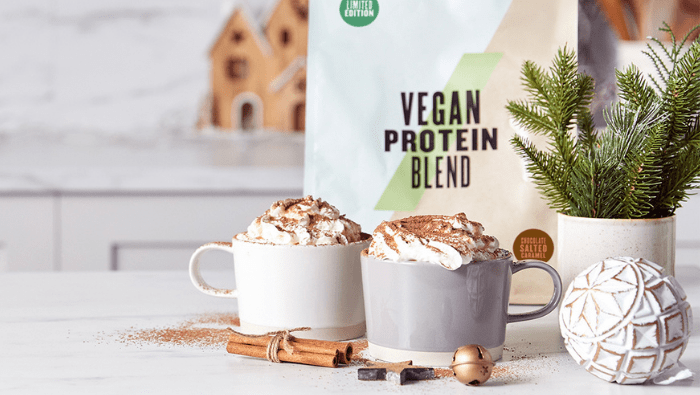 This recipe also uses our Organic Cacao Powder which is made from 100% organic raw cacao beans that add a natural source of essential minerals such as potassium, magnesium, iron, copper and manganese.
You really enjoy the best of both worlds with this recipe – chocolate AND salted caramel. Heat them together and you have heaven in a mug. This sweet, comforting drink is easy to make and is guaranteed to hit the spot every time. Top it with vegan cream and Butterscotch Sugar-Free Syrup for that photo-worthy finish.
Vegan Salted Caramel Hot Chocolate
Method
Place a medium sized milk pot on a medium heat, and add the plant milk, Organic Cacao Powder, chocolate chips and simmer gently.

When the chocolate chips are fully melted, add the Vegan Protein Blend and stir until completely dissolved.

Pour into glass mugs and decorate with vegan mini marshmallows and a light dusting of Organic Cacao Powder.

For an extra treat, top with vegan cream and a drizzle of Butterscotch Sugar-Free Syrup. Enjoy!
Shop the ingredients: