Leading a healthy lifestyle doesn't mean you have to lose all the flavours and foods you enjoy most. With a few smart swaps, you can cut down on unnecessary amounts of sugar and calories – without having to compromise on the things you love. We're here to make things quick and simple, so you can focus on the tougher bits… like actually doing that sweaty cardio session. 
So, without further ado, here are 7 healthy vegan food swaps that are sure to satisfy your cravings. 
1. FlavDrops
Looking to cut down on your sugar intake but have a serious sweet-tooth? Flavour your snacks and drinks naturally with FlavDrops – the zero-calorie taste enhancer that makes coffees, smoothies, shakes, bakes, and drinks taste delicious and sweet. With four flavours to choose from, including Chocolate and Vanilla, FlavDrops contain 0g of fat and sugar, making them suitable to enjoy on a daily basis.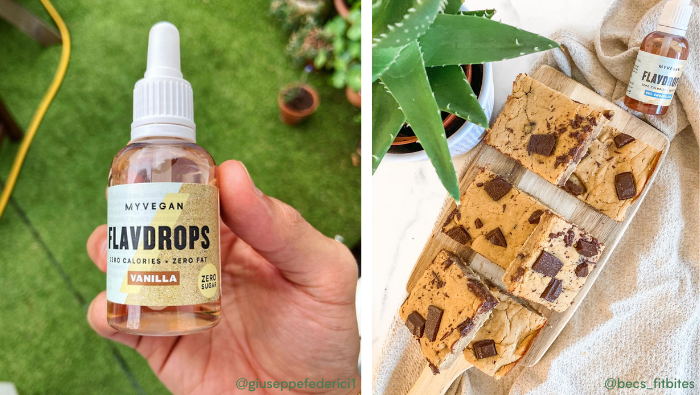 2. Vegan Protein Pancake Mix
Why not make a change from your usual pancakes and try vegan Protein Pancake Mix? This easy-to-use mixture creates fluffy, American-style pancakes in minutes and makes for a super satisfying breakfast, dessert or snack. Each low-sugar serving comes in at just 156 calories, with 10g of protein to promote muscle growth and repair.1
3. Baked Protein Cookies
An afternoon dunk might kill your cravings at the time, but just one leading supermarket biscuit packs a huge 21.48g of sugar.
Once you have one of these, there's no going back – you'll never want your biscuit tin to be without a Baked Protein Cookie again. Baked from a rich dough and enhanced with a generous sprinkling of dark chocolate chunks, these vegan cookies are truly indulgent and pack in 14g of plant-based protein too. What's more, the cookie is an excellent source of fibre and is completely free from artificial sweeteners.  
4. Vegan Protein Water
Many juices and cordial drinks contain a lot of empty calories and have been linked to numerous health issues. While they certainly can be enjoyed in moderation, our Vegan Protein Water is a much healthier option.
The Vegan Protein Water contains zero fat and sugar, and is packed with 10g of plant-based protein and added B vitamins to support a healthy, balanced diet. It's available in two fruity and refreshing flavours – Strawberry and Lemon & Lime – which is perfect for when you're craving something sweet.