Your favourite winter warmer, but with a healthy twist!
---
Recipe by Maria Devine (@mimismacros)
Mulled wine, also know as glühwein, vino caliente, or glögg, is a traditional spiced drink usually served warm and with fruit. This recipe takes this much loved winter drink and gives it a healthy spin.
Made using our Blackcurrant Clear Vegan Protein, this mulled "wine" is fortified with plant-based protein that fully dissolves into the drink. It also contains essential B vitamins including vitamin B12 which plays an important role in immune health.1 It also contains added vitamin B6 which contributes to a healthy functioning brain and helps to fight feelings of fatigue.2,3
What makes this Blackcurrant Mulled "Wine" recipe even healthier, is it is completely alcohol-free! You can enjoy the delicious flavours of mulled wine without worrying about the extra calories from the alcohol.
This recipe uses a handful of spices and oranges to give this delicious drink it's signature citrus and spice flavours.
Your kitchen will smell incredible when you make this recipe, and you can feel warm and relaxed with a glass of hot Mulled Blackcurrant "Wine".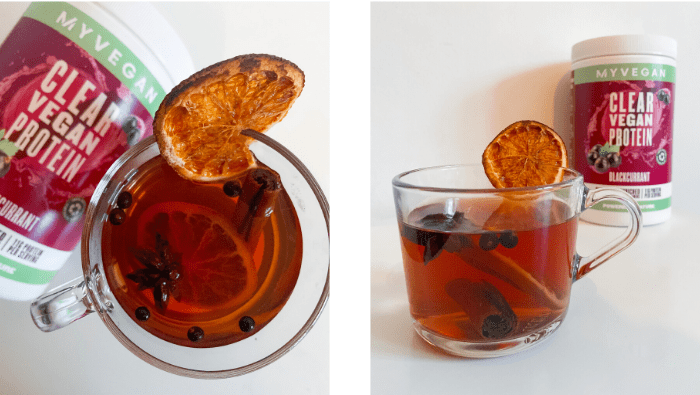 Vegan Protein Blackcurrant Mulled "Wine" Recipe
Serves 2 
Ingredients
3 scoops blackcurrant Clear Vegan Protein
50ml double strength blackcurrant diluting juice
800ml water
4 dried oranges
2 star

 anise 

1 cinnamon stick (+ optional ground cinnamon)
2 tbsp juniper berries (optional)

 
Method
Add the clear protein and diluting juice to a shaker cup

 

Fill with water and mix to combine

 

Transfer to a pot and add the garnishes

 

Simmer for 3 minutes

 

Remove from the heat and infuse for 3 minutes

Enjoy!