So, you've finally got your hands on our Carrot Cake Vegan Protein Blend – that's a great first step. While there's no denying that it tastes amazing when mixed with just water or plant milk, the protein powder is super versatile and makes far more than just a great post-workout shake.  
From protein-packed donuts to fluffy soufflé pancakes, here are 10 unique ways to incorporate the Carrot Cake Vegan Protein Blend into your diet. Trust us when we say: hitting your daily protein requirements couldn't be more delicious or appealing! 
1. Carrot Cake Cupcakes
Turn your afternoon tea favourite into a batch of vegan carrot cake cupcakes, for the ultimate guilt-free snack. Aside from being utterly delicious, each cupcake boasts insane macros with 113 kcal, 12g carbs, 2g fats, and 10g protein. Now that's what we call plant power!
Ingredients: 
50g self-

raising

 flour

 

50g oats blended into flour

 

40g grated carrot

 

10g chopped dates/raisins/sultanas

 

80g plant-based yoghurt

 

Cinnamon & mixed spice to taste

 

300ml plant-based milk

 

10g of B

iscoff

 spread, melted

 
Method: 
Mix all ingredients together then pour into 8 cupcake 

moulds

.

 

Dollop a little B

iscoff

 on each cake and swirl with a straw or sharp knife to get a marble effect.

 

Pop in a preheated oven on 180C for 25 minutes.

 
2. Carrot Cake Flapjacks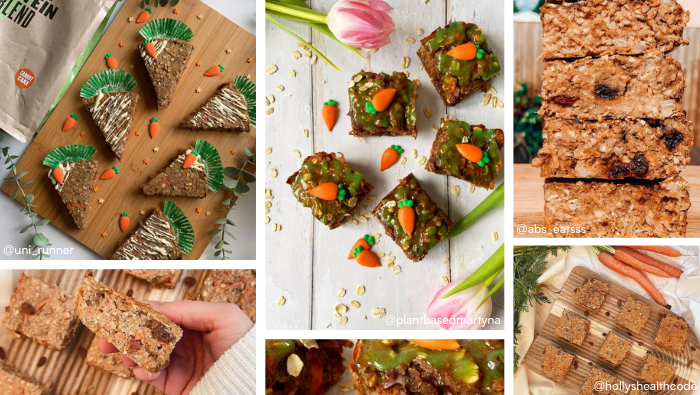 Why choose between carrot cake and flapjack when you can have both? This combination, thought up by @abs_eatsss, is honestly a match made in heaven. Chewy from the oats, and lightly spiced from the Carrot Cake Vegan Protein Blend, it's a great on-the-go breakfast when you're pushed for time, or sweet treat for any birthday celebration.
Ingredients: 
2 bananas

 

100g oats + 60g oat flour (blended up oats)

 

20g syrup

 

20g almond butter

 

½ tsp baking powder

 

1 grated carrot

 

50g sultanas

 

1tsp cinnamon

 

150ml almond milk

 
Method: 
Preheat the oven to 180C.

Mash the bananas. A

dd in all the other ingredients and mix together until fully combined.

 

Pour into a lined baking tin and b

ake for 20-25 minutes.

 

Leave to cool completely then cut into slices. 

 
3
. Carrot Cake Soufflé Pancakes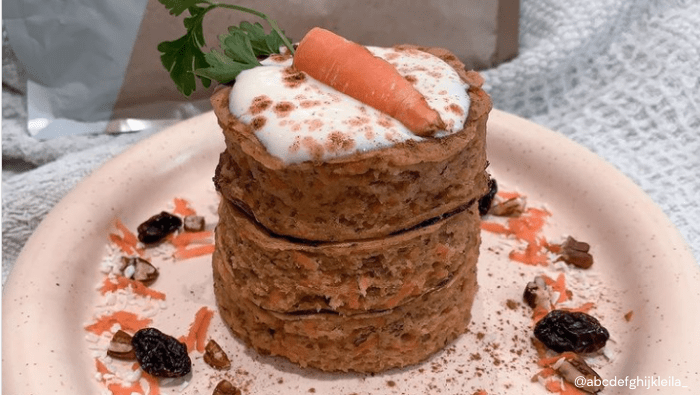 Pancakes are essential to most people's breakfast rotation. But, @abcdefghijkleila_ has taken it up a few notches with these fluffy carrot cake soufflé pancakes. They're simple to make, require minimal ingredients, and are packed full of protein too. Oh, and not to mention, they taste amazing. What more could you want? 
Ingredients: 
Method: 
Prepare your batter by whisking together all of the ingredients.

 

Heat a non-stick frying pan, place your

soufflé

 

moulds

on top and fill with batter. C

over the pan with a lid and a

llow the pancakes to rise, then flip them over.

 

Remove your

moulds

 and add your 

favourite

 toppings.

 
4. Carrot Cake Baked Oats
Baked oats are a belting healthy brekkie, so much so they've been blowing up on TikTok! This carrot cake version is the perfect way to set you up for the day, as it's crammed full of protein and full of amazing flavour too. Win-win.
Ingredients: 
50g oat flour (blended oats)

 

250ml plant-based milk

 

1tsp baking powder

 

Pinch of salt

 

1tsp cinnamon

 

½ 

tsp

 nutmeg

 

¼ small carrot, grated

 

10g raisins

 

3 chopped walnuts

 
Toppings: 
Vanilla soy yoghurt

 

Almond butter

 

Maple syrup

 
Method: 
Preheat oven to 200C.

 

Add all of the ingredients to a mixing bowl and mix until smooth.

 

Pour mixture into an oven safe bowl.

Place in the oven and bake for 15-25 minutes, the longer they cook the thicker it will be.

 

Top with vanilla yoghurt, almond butter and maple syrup.

 
5. Carrot Cake Donuts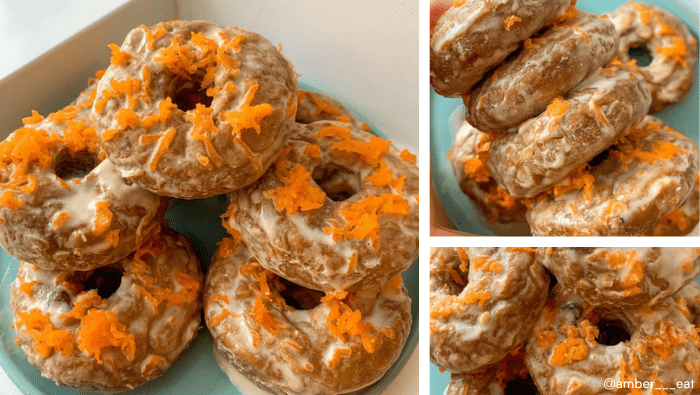 These vegan donuts, courtesy of @amber___eats, are sweet and indulgent – but with a healthy twist. Topped with a dreamy glacé icing and infused with all the incredible flavours from our Carrot Cake Vegan Protein Blend, Vanilla FlavDrops, shredded carrots and raisins – this is a recipe you'll come back to time and time again. And yes, you can have donuts for breakfast.
Ingredients: 
Vegan cream cheese glacé icing: 
100g dairy-free cream cheese

 

50g dairy-free butter

 

200g icing sugar

 
Method: 
Preheat your oven to 180C

. Next, whisk 

together the vinegar and 

plant-based 

milk and set aside to curdle.

 

Sieve the dry ingredients into a large bowl and mix. 

A

dd the maple, mashed banana, vanilla and plant milk, and fold in the dry until combined.

 Fold in the grated carrot and raisins. 

 

Pour into the donut 

moulds

 so they have an equal amount in each. Place on a baking tray and cook for 10 

monutes

. After a further 5 minutes, take out the 

moulds

 and put on a cooling rack.

 

Cream together the dairy-free butter and dairy-free cream cheese until smooth. Sieve the icing sugar in and mix until combined. Add more icing sugar to thicken if needed. Dip the donuts in the icing and place on a cooling rack until set.
6. Carrot Cake Protein Pancakes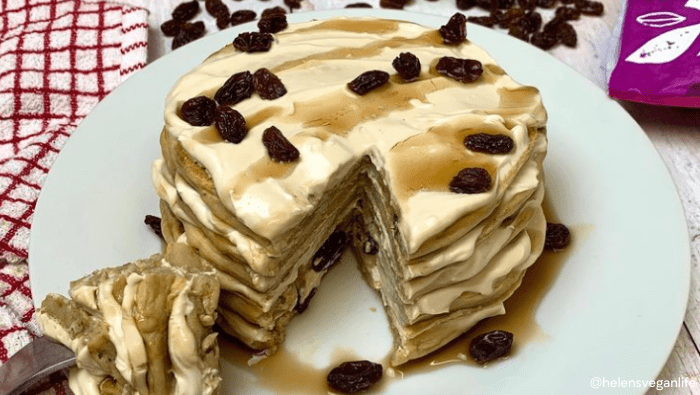 Weekends are made for pancakes. But not just any pancakes, vegan carrot cake pancakes! We spotted this recipe from @helensveganlife over on Instagram, and we just had to share it! Simply use your usual pancake recipe, but substitute some of the flour for a scoop of Carrot Cake Vegan Protein Blend. Add some raisins and grated carrot into the mix, and you'll have a stack of beautiful and fluffy pancakes to satisfy your carrot cake cravings.  
7. Carrot Cake Porridge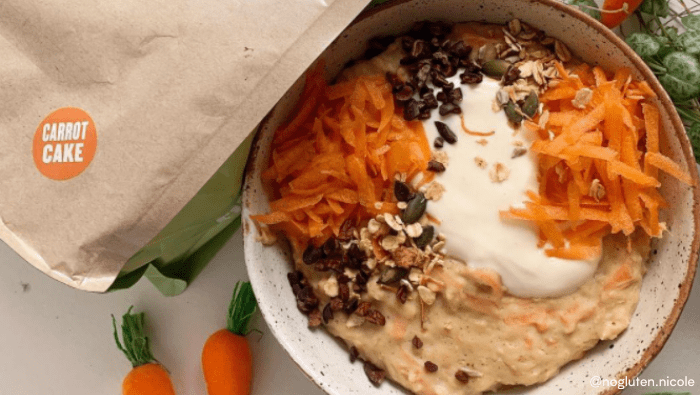 There's no reason oatmeal should be boring. Start your day off strong with @nogluten.nicole's tasty Carrot Cake Porridge, topped with some of your favourite treats – because why not?! The simple addition of our Carrot Cake Vegan Protein Blend will provide you with 22g of protein, and make it taste like you're having dessert for breakfast. Dreamy. 
8. Carrot Cake Freakshake
When a freakshake is 100% vegan and packed full of protein – you know you're onto a winner! Get in the birthday spirit and make this Carrot Cake Freakshake as a super-indulgent post-workout treat, or keep the recipe up your sleeve for a loved one's birthday!
Ingredients:
Toppings:
Squirty cream
Lotus biscuits
Fox's party rings
Vegan sprinkles
Method:
Add 1.5 scoops of Carrot Cake Vegan Protein Blend to 400ml almond milk (more if you want it thicker).
Blend it together and pour into your glass.
Top with vegan squirty cream, Lotus biscuits, Fox's party rings, and vegan sprinkles.
9. 3-Minute Microwave Carrot Cake

 
Carrot Cake is one of life's simple pleasures, but it isn't the quickest or easiest of things to make. That doesn't mean you have to miss out, though. This vegan carrot cake only takes 3 minutes to make in the microwave, which is quite possibly the speediest way to get your carrot cake fix.
Ingredients:
40g flour
30g carrots
50ml oat milk
6tbsp soya yoghurt
1tsp baking soda
Method:
Simply mix all the ingredients together and cook in the microwave for 3 minutes.
10.

Carrot Cake & Banana Loaf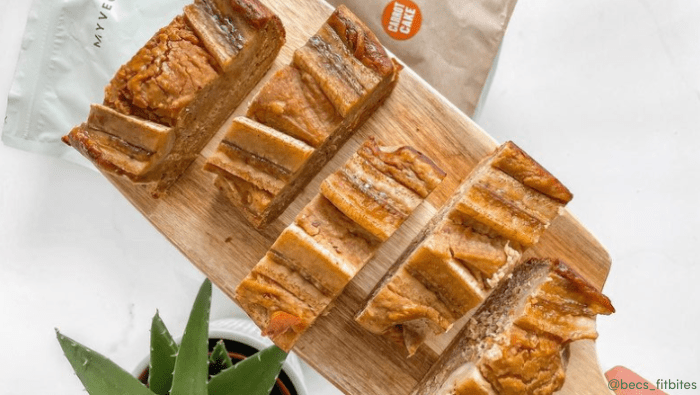 Yes, you read that right. Just when you thought banana bread couldn't get any better, @becs_fitbites went right in there with the dessert crossover of dreams. Made with a couple of scoops of our Carrot Cake Vegan Protein Blend, we think it's one of the most satisfying, high-protein treats you'll ever taste. And it's a great source of essential omega-3 fatty acids too – thanks to our Flax Seed Powder!
Ingredients:
Ingredients:
Make the

flax egg.

Mix the dry and wet ingredients together

Pout into a baking tray and bake for 40 minutes at 200 degrees.