Hearty, 'meaty' in texture, and bursting with flavour  – these vegan meatballs will become a staple in your weekly meal plan.
---
Guaranteed to please kids and adults alike, this recipe can be whipped up in less than 30 minutes, making it a saviour when you're pushed for time or when you need to use up any leftover ingredients and herbs sitting at the back of your fridge or cupboard.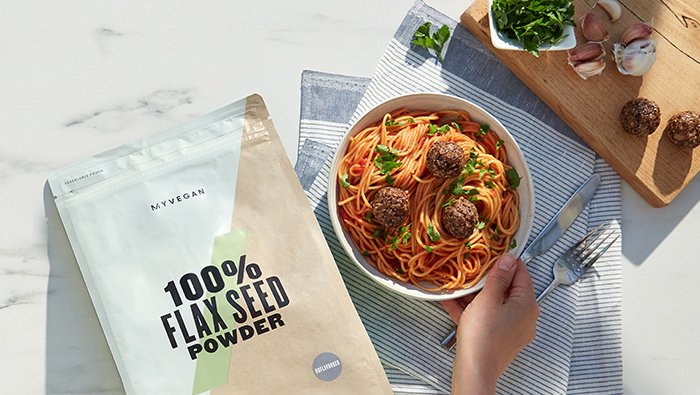 Even better, these vegan meatballs are made using a handful of nutritious, wholesome ingredients to help you feel your best from the inside out. This includes: mushrooms, walnuts, Gluten-Free Rolled Oats and Organic Flax Seed Powder – all of which are great sources of fibre and plant-based protein to top up your daily intake and support training progress.
Whether you serve with your favourite pasta dish or enjoy as a snack on their own, these vegan meatballs are sure to be a hit! Give the recipe a go and thank us later…
Vegan Meatballs Recipe
Ingredients
200 g mushrooms
1 onion (diced)
2 garlic cloves (minced)
50 g walnuts (toasted)
1 flax egg (1tbsp Flax Seed Powder & 2.5tbsp water)
1 tbsp. vegan Worcester sauce
2 tbsp. nutritional yeast
1 tbsp. parsley
1 tsp. dried oregano
1/2 tsp. thyme
1/2 tsp. salt
1/2 tsp. black pepper
Method
Sauté onions, garlic and mushrooms until soft.

Add Worcester sauce, dried herbs, salt and pepper.

Blend oats and walnuts to make a coarse meal, similar to breadcrumbs consistency and transfer to a mixing bowl.

Roughly blend the mushroom mixture then add to the bowl of oats & walnuts. Combine the nutritional yeast and flax egg and mix.

Preheat oven to 180C – Roll the mixture into balls and place on a greased baking tray and bake for 20-25 minutes.

Serve with pasta in tomato sauce.