The ultimate comfort dish, but with vegan credentials… 
---
Mac and cheese is the ultimate comfort food, and there's so much nostalgia wrapped into it. But, thing is, traditional recipes are loaded with dairy products – milk, butter and cheese – meaning it's firmly off the cards for vegans and anyone with a dairy intolerance.
That's why we've created a much healthier, 100% plant-based alternative which doesn't even call for one single shed of vegan cheese. And it's still pretty much everything you want a mac and cheese to be. It's creamy, saucy, ultra "cheesy" – and of course – topped with delicious breadcrumbs that are baked to perfection!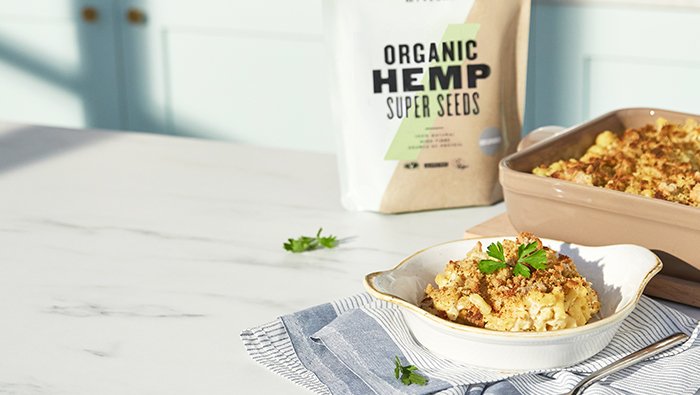 To add a healthful boost, we've sneaked in our small, but mighty, Organic Hemp Seeds which boast an incredible 25% protein content to support the growth and maintenance of muscle mass1. Not only this, these super seeds are packed with fibre, omega 3-6-9, and an abundance of essential minerals: potassium, magnesium and iron. These play a key role in supporting normal physiological processes such as muscle function,2 the nervous system and immune system3,4 — making this a great supplement for general wellbeing.
And if you're no beginner to vegan recipes, you'll know that nutritional yeast is a potent source of B12 (a vitamin only found in animal products) and is often used to mimic the taste of cheese. Although it may not sound like the tastiest ingredient in the world, trust us, you shouldn't take it at name value!
The best part? This recipe makes enough for you to enjoy a delicious dinner and then portion up for a couple of killer lunches. We guarantee you'll be the envy of the canteen as soon as you dig into this.
Servings

4-6 portions
Prep Time

35 minutes
Vegan Mac & Cheese Recipe
Ingredients
400 g macaroni
2 slices sourdough bread
1 tbsp. Organic Hemp Seeds
10 g nutritional yeast
400 ml almond milk
50 g tapioca flour
Juice of 1 lemon
Pinch of salt
2 tbsp. dijon mustard
Method
Preheat the oven to 200C, grill setting.

Cook the macaroni pasta according to the instructions on the pack. Once cooked, drain and leave to one side until needed.

Make the white sauce by placing the tapioca flour, lemon juice, nutritional yeast, mustard, almond milk and pinch of salt into a pan over a medium heat. Cook until the mixture begins to bubble, continuously whisking to ensure the mixture stays smooth and doesn't form any lumps. You may need to add a little more almond milk if the sauce becomes too thick.

Once the sauce comes together and is piping hot, stir the pasta through the sauce and spoon into a baking dish.

Make the topping by placing the bread, hemp seeds, nutritional yeast into a food processor and blending until it reaches a bread crumb consistency.

Scatter the breadcrumb mixture over the top of the macaroni and cook in the oven for 5-10 minutes until the top turns golden.