Nothing screams comfort food more than a warm, festive crumble – and this vegan version is no exception. With a crisp, golden top and a fruity, sweet base – it's perfect served with custard or dairy-free cream, and will be on your kitchen worktop in just 20 minutes.
Not only is this crumble rich in micronutrients from the berries, it's also packed with other wholesome ingredients – including nuts, Gluten-Free Rolled Oats and Organic Chia Seeds – for a hit of plant protein, healthy fats and fibre. The perfect treat without the cheat, if you ask us!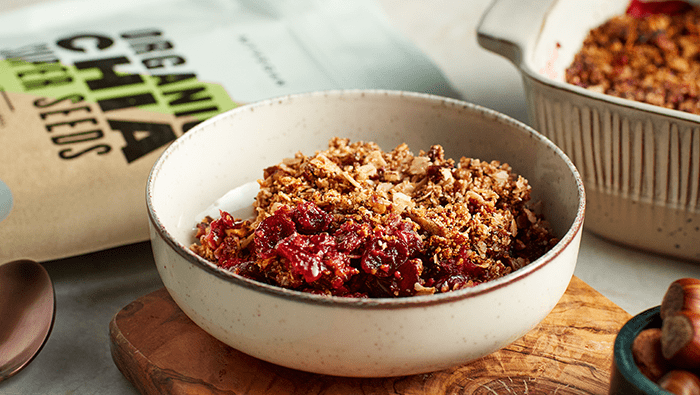 Why not whip up this easy-peasy recipe on Christmas day? It's sure to go down a treat with vegans and non-vegans alike!
Festive Crumble Recipe
Ingredients
400g frozen cranberries
750g frozen berries
1 litre orange juice
3 tbsp Sugar-Free Maple Syrup
1 tbsp Organic Chia Seeds
100g pecans
60g ground almonds
100g coconut sugar
1 tsp cinnamon
1 tsp ground ginger
3 tbsp melted coconut oil
Zest of 1 orange
Method
Preheat the oven to 180C (350F), fan setting.

 

Place all of the berries in a pan over a medium heat and cover with a layer of orange juice.

 

Bring to the boil before reducing the heat and leaving to simmer for about 10 minutes until the berries are really soft. Then drain the liquid.

 

While the berries cook, place the chopped pecans, ground almonds, rolled oats, orange zest, coconut sugar, chia seeds, melted coconut oil, maple syrup, cinnamon and ground ginger in a bowl.

 

Give everything a really good mix until well combined.

 

When the berries are cooked, place them in the bottom of a baking dish, stirring in three tablespoons of maple syrup.

 

Then place the nut crumble on top and bake in the oven for about 10 minutes, until the crumble is golden.