Recipe by Maria Devine (@mimismacros)
Ever stuck in a situation where you're struggling to pick between eating banana bread or a donut? Don't worry, we've got you!
These vegan donuts taste like the real deal, except they're baked instead of deep fried. The fluffy base is made up using banana, Vanilla Soy Protein Isolate, and White Chocolate FlavDrops instead of being packed full of refined sugar – making them the perfect option if you're looking to combat your sugar cravings.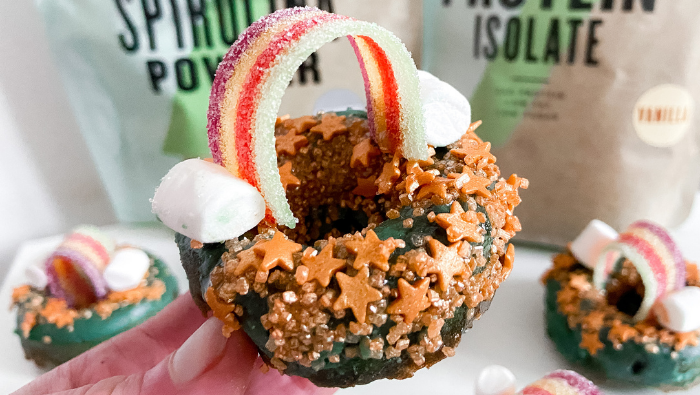 What's more, these vegan donuts are coated with a spirulina glaze for a boost of green goodness. Not sure what Spirulina is? In short, it's a superfood with a nutritional profile off the spectrum. It's a great source of fibre, protein, iron and vitamin E, making it a great addition to your everyday diet.
Moist on the inside, ever-so-slightly crisp on the outside – these vegan doughnuts are almost too cute to eat. Almost.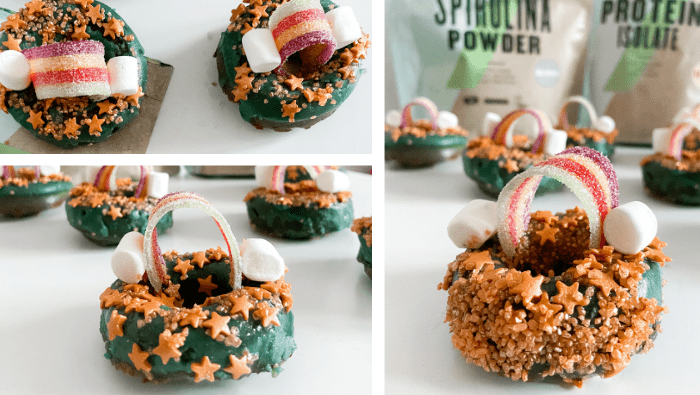 Servings

18 small donuts
Vegan Donut Recipe
Ingredients
130 g mashed banana
200 g self-raising flour
215 ml plant-based milk
50 g granulated sweetener
2 tsp. spirulina powder
7 g vanilla stevia drops
85 g powdered erythritol / icing sugar
1/4 tsp. spirulina
Some vegan mini marshmallows
Some vegan fizzy rainbow strips 
Method
Preheat the oven to 190°C and grease the donut tray with oil.

Combine the wet ingredients with the dry ingredients. Divide the batter between the donut holes, filling them 3/4 full.

Bake for 14-16 minutes until golden and firm to touch. Allow to cool before removing from the moulds.

Prepare the glaze by mixing the powdered erythritol or icing sugar with 1/4 spirulina powder, then spread over each donut.

To finish, top with vegan mini marshmallows and vegan fizzy rainbow strips. Enjoy!