No Christmas is complete without some warm mince pies – and this is our ultimate vegan mince pie recipe.
---
Mince pies are the go-to Christmas snack. There's something comforting about that warm mix of fruits and spices encased in delicious melt-in-your-mouth pastry.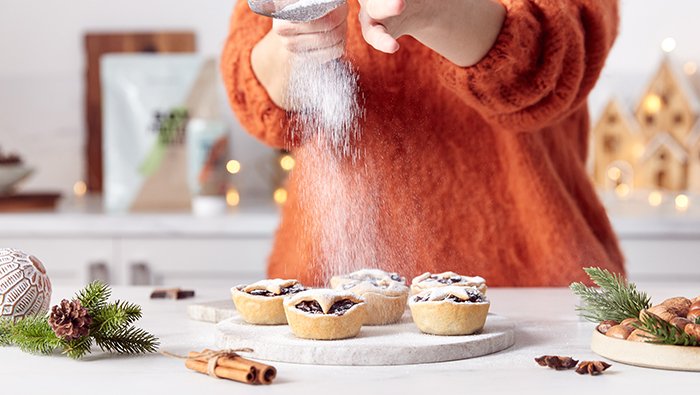 This simple vegan mince pie recipe is perfect for enjoying a plant-based Christmas, plus they are easy to make!  With this home-made mincemeat recipe, you can guarantee your mince pies will be filled with a dairy-free and delicious filling.
Vegan Mince Pies
Ingredients
2 packets of vegan short crust pastry
1 large apple (around 200g), peeled and chopped
200g mixed dried fruit
1 scoop Vanilla Soy Protein Isolate
1 orange, zested and juiced
1 tsp cinnamon
1 tsp ginger
1 tsp allspice
100g dark brown sugar
100g walnuts or pecans, roasted and roughly chopped
Icing sugar for decorating
Method
Place the cubed apple, dries fruits, orange zest and juice and all spices and the sugar in a pan and simmer on a medium heat until liquid is reduced and dry fruits are well hydrated. Add 1 scoop of Vanilla Soy Protein Isolate.
Let it cool completely.
In the meantime, preheat the oven to 175C.
Take the pastry out of the fridge and roll it out gently. Cut out circles using a 9cm cookie cutter and line holes of a cupcake tin. Use an 8cm cookie cutter to cut out circles, then use a star cutter to cut out the middles.
Put a heaped spoonful of mincemeat in the middle of each circle.
Top half of them with the stars and the other half with the stamped-out circles. Use your fingers to seal the tops and bases, then brush the tops with milk.
Bake for 30 mins until the pastry is crisp and the tops are golden. Cool a little, then dust with a little icing sugar to serve