We all know that when we head out to eat, it's not just about the taste of the food. Dreamy interiors, vibrant food and careful presentation all go a long way, too… as well as making the ideal Instagram photo opp.
But which of the UK's plant-based eateries are truly worthy of the 'gram? We analysed thousands of hashtags to see which vegan and veggie restaurants have been appearing on our feeds most often.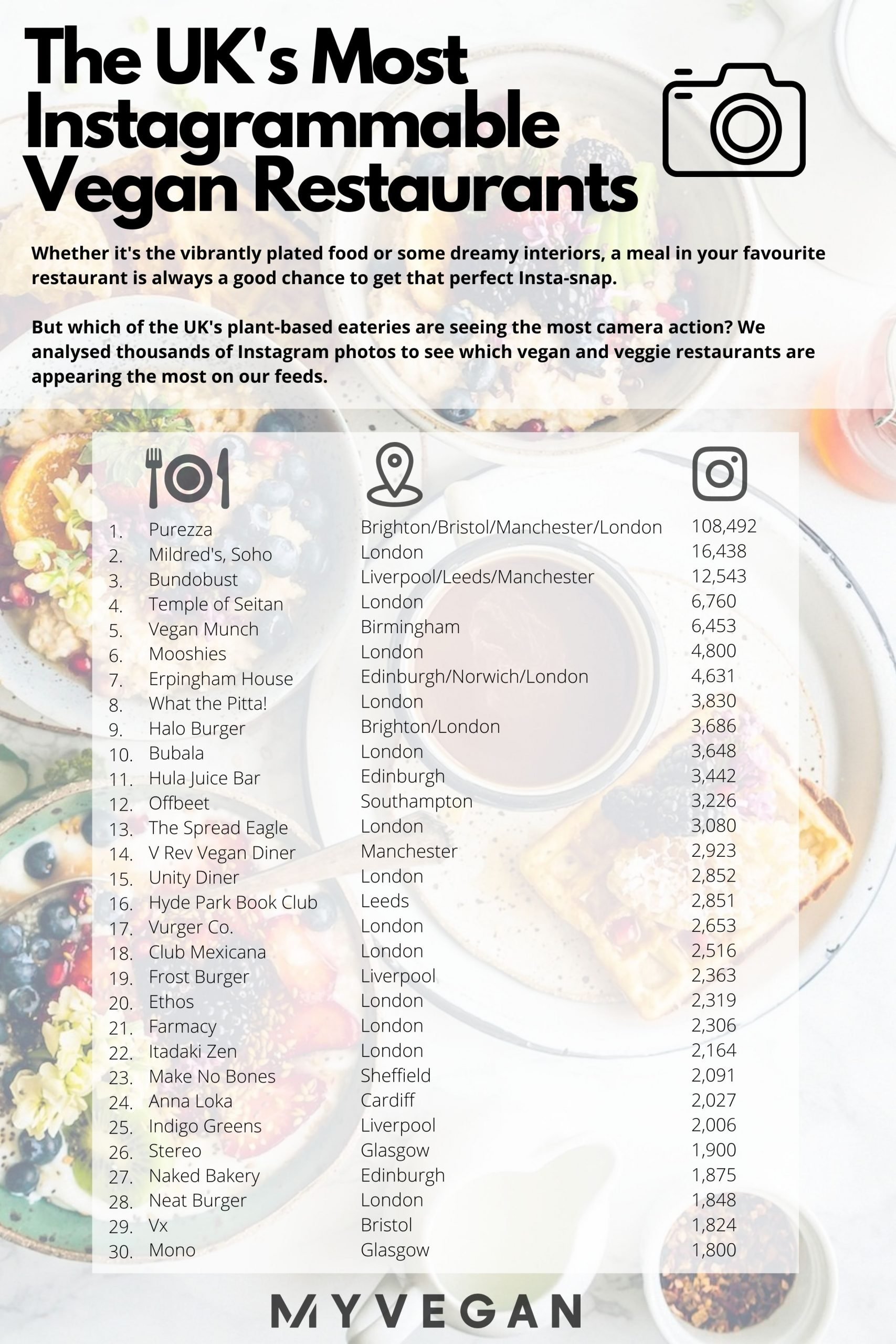 Top 10 most Instagrammable vegan restaurants
1. Purezza – 108,492 tagged photos
Brighton & Hove/Bristol/Camden/Manchester
Far outdoing its contenders with a whopping 108,492 tags is Purezza, the UK's first ever vegan pizza chain. Since its launch in 2015, the brand has captured vegan hearts with its mouth-watering array of all-vegan pizzas, made extra special by its own plant-based mozzarella that tastes and melts just like dairy. 98% of their menu is also gluten-free, meaning nobody is excluded from enjoying classic Neapolitan food to the fullest.
With restaurants in Brighton, Hove, Bristol, Camden and Manchester, it's no wonder Purezza grabs the top spot on our list.
2. Mildred's – 16,438 tagged photos
London
Probably not surprising to many, Soho's Mildred's comes in second with over 16,000 Instagram tags. Known for its seasonal, sustainable food inspired by cuisines from all over the world, it offers plenty of photogenic moments thanks to its meticulously presented food and rustic, whimsical interior.
Expect hearty Italian dishes and colourful Buddha bowls along with warm vegan choc-chip cookies and carefully crafted cocktails.
3. Bundobust – 12,543 tagged photos
Manchester/Leeds/Liverpool
Offering colourful plates of Indian street food in a vibrant, fun setting, Northern chain Bundobust is next, raking in 12,543 tags.
Whether it's capturing the deliciousness of the traditional Indian dishes, appreciating the artistic branding of its craft beers or smiling at the local references scattered around its walls, there are plenty of reasons to not leave one of Bundobust's eateries without snapping something for the grid.
4. Temple of Seitan – 6,760 tagged photos
London
Plant-based fast food will always be a hit with vegans and flexitarians alike, and Temple of Seitan is no exception. The London-based vegan diner chain makes food that really does look as good as it tastes. From towering burgers stacked with crispy fried chick'n to colourful, fluffy-looking chick'n and waffles, there's something for all junk food-lovers at this pioneering American-themed restaurant.
5. Vegan Munch – 6,453 tagged photos
Birmingham
A healthy salad and juice bar offering veganism's answer to doner kebabs and shawarma wraps, Vegan Munch may just be Birmingham's best plant-based treasure with over 6,000 tagged photos.
From wraps and pittas bursting with a variety of plant-based meats, to colourful salad platters and meze bowls, there's plenty here to satisfy any vegan's hungry appetite.
6. Mooshies – 4,800 tagged photos
London
Proving again that plant-based burgers will always be a favourite, Brick Lane's Mooshies is a 100% vegan burger bar racking up 4,800 tagged photos on Instagram.
Originally starting as a successful pop-up, Mooshies is now one of London's top vegan eateries offering what they call 'nutritional fast food'. All its menu items are made from whole plant foods and are soya, gluten and nut-free, served in a chilled, casual environment.
7. Erpingham House – 4,631 tagged photos
Edinburgh/Norwich/Brighton/London
Boasting some of the most visually pleasing food around, it's no wonder Erpingham House clocks up more than 4,600 tagged photos. From colourful platters of plant-based canapes to eloquent Sunday roasts and familiar dishes made with seasonal ingredients, Erpingham House promises plant-based food "for conscious living".
Its cosy interiors also make for a warming dining experience, with marble tables and plush furnishings providing the perfect Instagram backdrop.
8. What the Pitta! – 3,830 tagged photos
Brighton/London/Manchester/Croydon
It may be difficult to believe that so much could be possible with a humble pitta, but plant-based chain What the Pitta! somehow takes it to the next level with almost 4,000 tags on Instagram.
Doner kebabs, gyros, falafel wraps and burgers are just some of the flavoursome items you can expect from the menu, each one bursting with an epic array of sauces, flavours and ingredients. Whether it's an indulgent lunch or convenient dinner, What the Pitta! never fails to hit the spot.
9. Halo Burger – 3,686 tagged photos
Brighton/London
With nearly 3,700 Instagram tags it's Halo Burger – the UK's first plant-based burger chain that prides itself on delivering the first ever 'bleeding' vegan burger.
Boasting a variety of other American diner-inspired items such as nuggets, ice cream and its signature Halo fries, Halo Burger continues to grow its presence and fulfil our cravings for vegan junk food and good photo moments.
10. Bubala – 3,648 tagged photos
London
With more than 3,600 tagged photos, Bubala is a restaurant offering middle Eastern feasts in London's Spitalfields. Although not a strictly all-vegan restaurant, its entire menu is vegetarian with the majority of dishes being vegan.
Bubala offers an array of small 'tapas-style' dishes that perfectly encapsulate the wonderful flavours of middle Eastern cuisine, all without an animal in sight. Amid atmospheric lighting and muted, calming interiors, Bubala's guests can snap an envy-inducing photo and enjoy a plant-based banquet they'll never forget.
Take Home Message
With new plant-based eateries popping up left, right and centre, there's never been a better time to show off what the lifestyle has to offer. Whether it's a mouth-watering vegan burger, an ornately presented salad or a moment in your favourite nook, the UK's plant-based restaurants offer no shortage of Insta-photo opportunities.
Methodology
We compiled a list of the most popular veggie/vegan restaurants in each major UK city, before using Instagram to see how many photos had been tagged with each restaurant's name and its variants (for example, #purezza, #purezzarestaurant, #purezzapizza, #purezzamanchester etc).
We then ranked them by number of hashtags to work out the most tagged plant-based restaurants on Instagram.