Often find yourself left with half-used, unwanted ingredients that sit in the fridge for days before being sent to the bin? Not only is this damaging to your pocket, it's also bad for the environment.  
"When food is disposed in a landfill it rots and becomes a significant source of methane – a potent greenhouse gas with 21 times the global warming potential of carbon dioxide." 
That's why we've teamed up with the wonderful Plant Power to create this delicious Sweet Potato Tempeh Pizza – an easy way to use up those forgotten ingredients, whether they be wilted or bruised. Super tasty and versatile, this healthy pizza is ideal for freezing portions to have when you really don't feel like cooking, or to enjoy for your lunch the next day.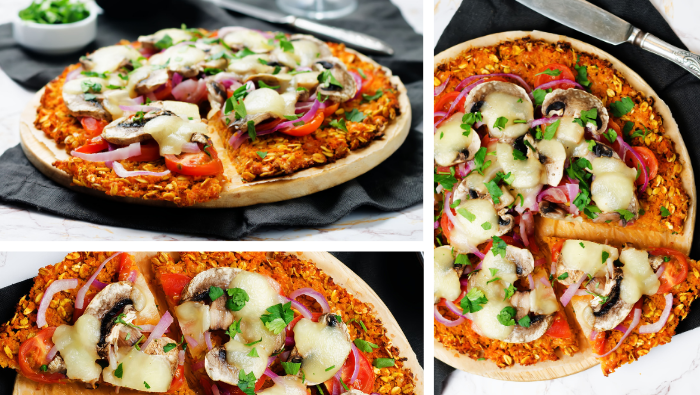 Note that the focus here is to cook what you already have in your fridge, so nothing goes to waste or to landfill. If you don't have an onion, swap it for a courgette or a pepper, and sub the tender stem broccoli for kale, spinach or another leafy green. This pizza is designed for loading, so go all out with the ingredients you already have – and prepare yourself for a fun, zero-waste night in!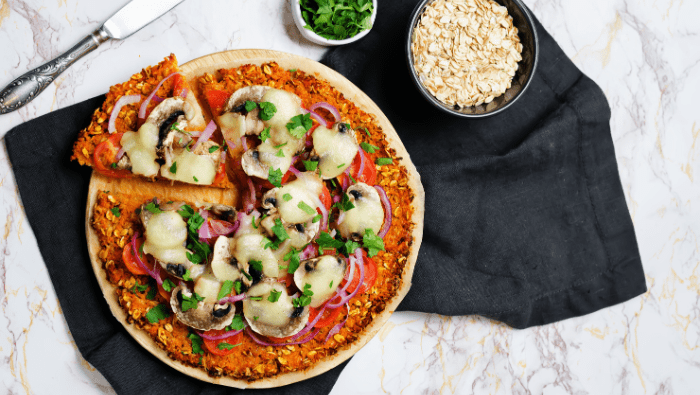 Sweet Potato Tempeh Pizza Recipe
Ingredients
 (Pizza base)
Ingredients (
Pesto
)
1/4 cup any nuts or seeds 

(

almonds, walnuts, pistachios, pumpkin seeds

)

 

30g of leaves (m

int

, c

oriander

, f

lat Leaf 

p

arsley

, s

pinach

)

 

1 Garlic Clove

 

1/2 Red 

Chilli

 

Extra Virgin Olive Oil

 
Ingredie
nts (
Toppings)
Plant Power Tempeh (sliced 

rhiblu

)

 

2 tsp tamari

 

1 tsp smoked paprika

 

1 1/2 tsp maple syrup

 

Any leftover veg in the fridge

 
 Method 
In a food processor, blitz the nuts, herbs, garlic, 

chilli

, oil

 (and salt to taste)

 until you get a rough consistency.

 

Adjust the oil and salt to desired taste.

 

In a steamer

, add 

the peeled and chopped sweet potatoes and steam until soft, then leave the cool. Save the peelings for later

.

 

Add the cooled sweet potato into a bowl and begin to mash until

 lump free.

 

Add in the oat flour, corn flour, baking powder and salt and bring the mixture together

 un

til you get a

 

soft dough.

 

Add more oat flour if

 needed

 (depending on how big your sweet potatoes are)

 

Split the dough into two

, 

roll into a ball and place on a floured flat baking tray

. B

egin rolling into a pizza shape.

 

Top with the pesto and place in the

 

pre

–

heated oven at 180c for approx

imately

 20 minutes or until golden and crisp around the edges

.

 

Remove from the oven and top with tempeh bacon, tender stem broccoli, red onion and avocado

. F

eel free to use whatever veggies you 

have to

 hand such as asparagus, peas, peppers, tomatoes

.

 

And finally, with your potato peelings – drizzle with a little olive oil, sprinkle with salt and bake them until crisp as the perfect crunchy side dish!