Who said breakfast had to be boring? Switch your usual breakfast to our Speculoos Tiramisu & meet your new favourite wake-up call.
 To celebrate the launch of our new Speculoos Soy Protein Isolate flavour, we're joined by fitness influencer and fellow Biscoff fanatic Leila Hannoun who has created a Speculoos Breakfast Tiramisu.
Leila's breakfast tiramisu includes our new Speculoos Soy Protein Isolate for a low sugar, high protein morning hit. A delicious blend of oats and soy protein powder, infused with coffee; this breakfast is the perfect way to help you get a kick out of your morning.  
Ready to start cooking? Let's check out the recipe.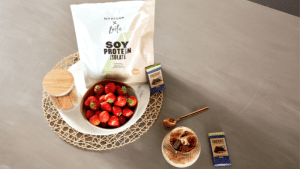 Ingredients:
Method:
Prepare the yogurt by mixing in the toffee FlavDrops and some instant coffee. Once mixed, place to the side.

 

Mix the oats and protein powder in a separate bowl.

Pour some of the oat mixture into a clean jar, then layer over some of the yogurt. Repeat the process until all the mixture is used. Finish by topping with some Biscoff spread and crumble over Biscoff biscuits.