Halloween is almost here and the preparations are in full swing. So we're sharing some of the most spook-tacular vegan Halloween recipes to get you into the spirit! We're talking kid-friendly chocolate mummy donuts, pumpkin tear & share bread, and so much more. No tricks here, but plenty of treats…
Oh, and don't forget to share your Halloween creations with us, by tagging us on Instagram @myvegan or using the hashtag #Myvegan for a chance to be featured on our feed!
7 Vegan Halloween Recipes
1. Chocolate Mummy Donuts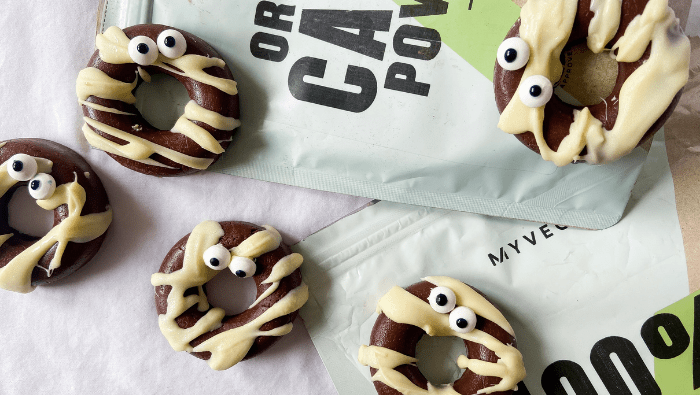 We're all about easy and fun Halloween treats, and these vegan mummy donuts are no different. Whether you're hosting a Halloween party or looking for a new, healthy snack – this recipe is sure to hit the spot. These vegan donuts can be whipped up in a matter of minutes, they require no frying or baking, and they make a much healthier alternative to shop-bought versions. The best part? They're so quick and easy, young 'uns can even help make 'em!
Find the full recipe here.
2. Pumpkin Tear & Share Bread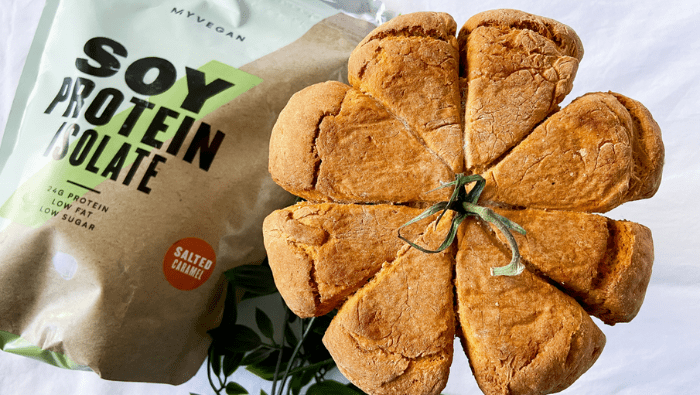 This pumpkin tear & share bread is easier to make than you might think and makes the perfect centrepiece for an Autumn celebration! Thanks to our best-selling Soy Protein Isolate Powder, this recipe doesn't just taste great, it's super nutritious too. Containing only 102 calories and 8g of protein per serving, it's the perfect option if you're looking to make healthier choices – without skimping on the Halloween fun!
Find the full recipe here.
3. Chocolate Cherry Poptart Mummies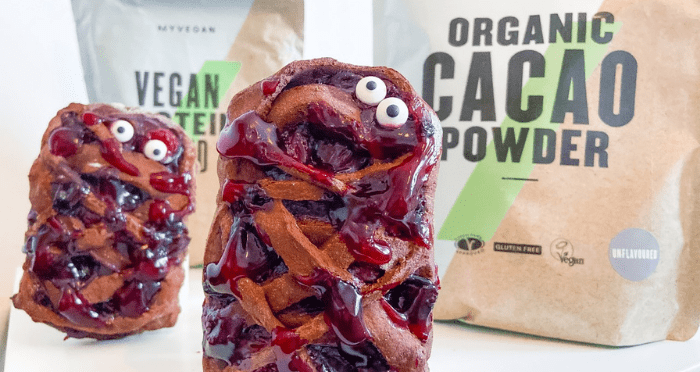 These spooky poptart mummies will be love at first bite! Containing our best-selling Chocolate Vegan Protein Blend and glazed with cherry "fake blood", these poptart mummies contain absolutely no nasties, and are sure to satisfy your sweet Halloween cravings – the guilt-free way.
Find the full recipe here.
4. White Chocolate & Peanut Bars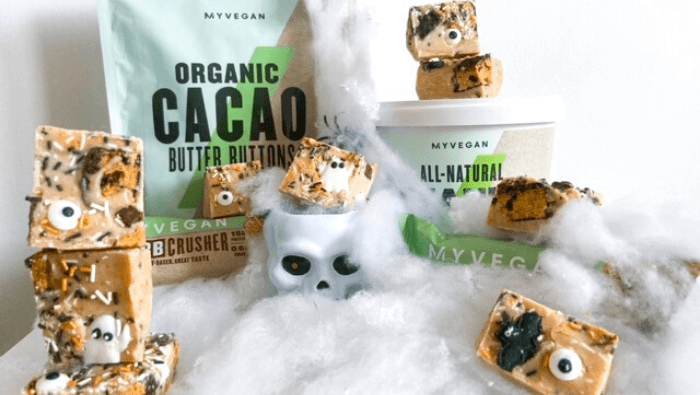 Add a seasonal twist to your baking with these white chocolate & peanut bars – our vegan take on the classic Reece's Pieces flavour combination. They're super-easy to make and are a great, mess-free snack to enjoy at home or on-the-go.
Find the full recipe here.
5. Frankenstein Smoothie Bowl
To make this smoothie bowl, all you need is:
For the spooky toppings:
6. Blueberry Pumpkin Muffins
Make the most of pumpkin season by using them in your baking. Pumpkins are an amazing, nutrient-dense fruit (yes – it's technically a fruit!) and are especially high in vitamin A. These blueberry pumpkin muffins are delicious cold or warm, straight out of the oven. You can add your own winter spice mix to give it an extra seasonal taste.
Ingredients
122 g pureed pumpkin
115 ml almond milk
30 g Vegan Protein Blend (coffee & walnut)
100 g spelt flour
50 g coconut sugar
50 g blueberries
0.5 tsp. baking powder
0.5 cup water
Method
Pre-heat the oven to 180°C.

Stir all the ingredients together to form a smooth mixture.

Pour the batter into cupcake moulds or muffin cases.

Bake for 25 minutes.
7. Dark Magic Protein Pancakes
Vegan pancakes make a great high-protein breakfast or dessert, and this doesn't change over the Halloween season. You can even get creative and make fake blood using real fruit juices from blackberries, blueberries and cherries!
INGREDIENTS:
Pancakes:
200g buckwheat flour
1/2 banana (blended) 1/2 banana (topping)
1tsp bicarbonate of soda
400ml plant milk
Toppings:
Handful dark fruits
Organic Maple Syrup
METHOD:
Blend together the pancake ingredients to give a smooth pancake mix.
Pre-heat a non-stick pan and pour out small circles of pancake mixture.
Leave them to cook on a medium heat and wait for the bubbles to start appearing on the top of the pan