Trick or treat! It's Halloween season – a time for sweets, treats, and lots of snacks. There are many fun ways to get creative with your favourite vegan snack recipes to give them a spooky Halloween twist. Whether it's turning your cheesecake a ghoulish green or transforming your protein bites into eyeballs, here's some recipe inspiration for healthy and protein-packed vegan Halloween treats.
11 High-Protein Vegan Halloween Snack Recipes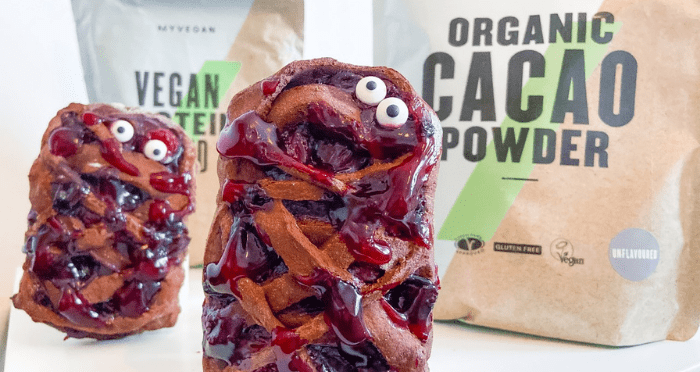 Nothing screams Halloween more than some scary eyes and fake blood! And these spooky snacks are sure to hit the spot. Made deliciously sweet from the cherries, the fruit also gives them their incredible sticky red glaze that makes the perfect fake "blood". The poptarts are also made with Vegan Protein Blend to give these treats a boost of plant-based protein.
Per serving: Calories — 289  Protein — 13g  Carbs — 52g  Fat — 2g
Find the full recipe here.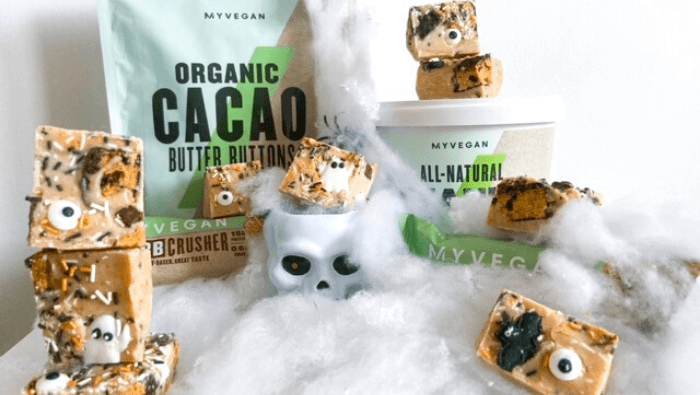 These bars are a tasty vegan take on the classic Reese's Pieces flavour combination – peanut butter and chocolate! With the signature black and orange colours of Halloween mixed in with feature ghosts and eyes, these bars are fun way to add a seasonal twist to your baking. They are easy to make and are a great, mess-free snack to enjoy at home or on-the-go.
Find the full recipe here.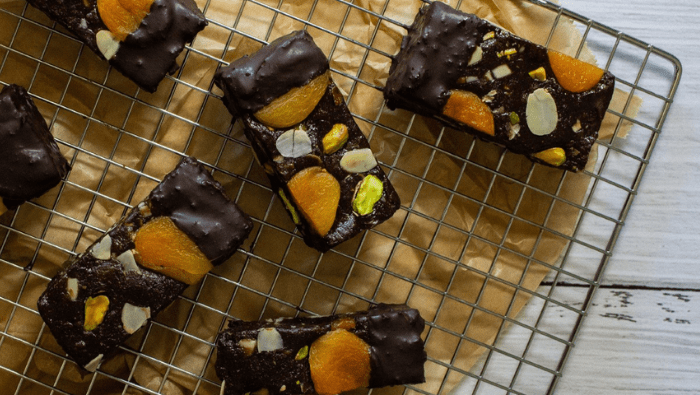 This recipe is one of the simplest and easiest ways to make your own tasty snack bars. They require no baking and are made with a handful of natural ingredients that give them their amazing taste and texture. The bars are created using our irresistible Vegan Gooey Filled Cookies, which are low in sugar, palm oil free, dairy-free, and packed with 13g quality plant protein.
Find the full recipe here.
4. Frankenstein Smoothie Bowl
To make your smoothie bowl, all you need is:
For the spooky toppings: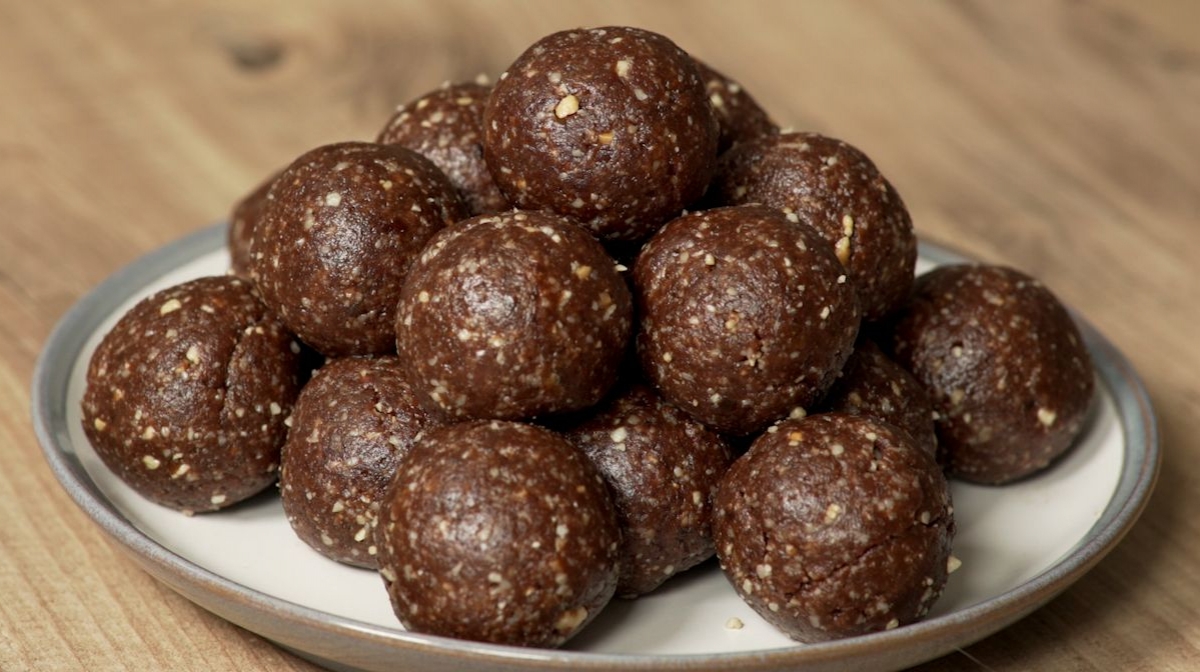 This recipe is the go-to for those with less time on their hands. With only three main ingredients, they can be whipped up in a matter of minutes – ideal if you forgot to prepare something for a Halloween party.
INGREDIENTS
METHOD
Blend all ingredients until they are thoroughly mixed and form a smooth paste.
Using a spoon, scoop out the mixture into even-sized portions.
Roll each portion into balls between your hands. You can use flour or make your hands slightly damp to prevent the balls from sticking to your palms.
Decorate into Halloween themed snacks – you can use some of the ideas below for inspiration.
Eat straight away or store in the fridge for later.
These delicious snack balls are so versatile, you can decorate them however you like. Here are some of our favourite Halloween ideas:
Eyeballs – Coat the bites with vegan white chocolate and decorate with a slice of strawberry and a raisin in the centre for the "eyeball's pupil".
Bats – Use sugar-paper (or cardboard for a non-edible alternative) and cut out bat wings which you can stick into either side of the brownie bites with cocktail sticks. The bites are the perfect shape for a cute, edible bat snack!
Spiders – Vegan strawberry or liquorice laces make the perfect sugary legs needed to turn your brownie bites immediately into scary spiders. Chop the laces into 8 equal lengths and push them into the brownie bite (spider's body). You could also add two seeds or cacao nibs to give them eyes.
Pumpkins – Coat each snack in orange icing or orange vegan chocolate, and use a cocktail stick to draw in the signature grooves of a pumpkin. Push a pumpkin seed into the top of each one to give you the pumpkin stem and voila – edible, tasty, Halloween pumpkins!
6. Scary Fruit and Veggies
Some of the easiest and healthiest Halloween snack ideas are ones that simply involve cutting and decorating fruit and vegetables. The natural colours in different fruit and veg help you to immediately create a Frankenstein or monster just by adding some googly eyes.
7. Witches Green Vegan Cheesecake
Impress your friends and family this Halloween by bringing out this incredible green vegan cheesecake. You can decorate with artificial spiders, cobwebs, or anything spooky and witchy to add to the ghoulish theme. This recipe doesn't need any artificial flavourings or food colourings – that vibrant green is naturally created from the spinach.
 INGREDIENTS
METHOD
For the base, re-moulded the Hemp Bar into a circular baking dish and chill in the fridge.
For the filling, blend together the almond milk in a blender with the Soy Protein Isolate, agave nectar and spinach.
Heat the mixture in a pot and remove it from the stove when it starts to boil.
Stir in the agar agar.
Pour the mixture onto your chilled base and leave to harden overnight.
Once hardened, spread the top with a blend of syrup and Cacao Powder.
Top with crumbled leftover Hemp Bar, seeds and some Cacao Nibs.
8. Blueberry Pumpkin Muffins
Make the most of pumpkin season by using them in your baking. Pumpkins are an amazing, nutrient-dense fruit (yes – it's technically a fruit!) and are especially high in vitamin A. These blueberry pumpkin muffins are delicious cold or warm, straight out of the oven. You can add your own winter spice mix to give it an extra seasonal taste.
INGREDIENTS
122g pureed pumpkin
115ml almond milk
30g Vegan Protein Blend (coffee & walnut)
100g spelt flour
50g coconut sugar
50g blueberries
0.5 tsp. baking powder
0.5 cup water
METHOD
Pre-heat the oven to 180°C.
Stir all the ingredients together to form a smooth mixture.
Pour the batter into cupcake moulds or muffin cases.
Bake for 25 minutes.
9. Green Protein Potion (Smoothie)
Hubble, bubble, toil and trouble! Transform your protein shake into a witches potion with the natural green of spinach leaves.
INGREDIENTS:
METHOD:
Add 1 ¼ scoops of Soy Protein Isolate to 250ml of water or plant-based milk.
Add some spinach to your protein shake for that vibrant green colour.
10. Dark Magic Protein Pancakes
Vegan pancakes are one of the best, high-protein breakfasts or desserts, and this doesn't change over the Halloween season. Get creative with some dark fruits like blackberries, blueberries, and cherries, to give your pancakes a darker twist for Halloween. You can even make scary zombie faces with individual pancakes, with the fruit juices acting as fake blood.
INGREDIENTS:
Pancakes:
200g buckwheat flour
1/2 banana (blended) 1/2 banana (topping)
1tsp bicarbonate of soda
400ml plant milk
Toppings:
Handful dark fruits
Organic Maple Syrup
METHOD:
Blend together the pancake ingredients to give a smooth pancake mix.
Pre-heat a non-stick pan and pour out small circles of pancake mixture.
Leave them to cook on a medium heat and wait for the bubbles to start appearing on the top of the pancake.
Once bubbles appear and the pancake edges are easy to lift, flip the pancakes over to cook the other side.
Stack your pancakes and add your toppings or decorate your Halloween pancakes with scary faces!
11. Pancake Animals
Forget whoever said you can't play with your food! You can cut up your pancakes and stack them carefully to create your favourite animals. Use each half of a pancake to make eats and cacao buttons as eyes. You could also use pancake halves to create dinosaur spines or wings. Why not try using red berry juice or strawberry sauce as fake blood,  for an extra-scary Halloween twist.
INGREDIENTS:
METHOD:
Blend 2 scoops of Vegan Pancake Mix with the water to form a smooth batter.
Heat a small amount of oil on a medium heat before beginning to make your pancakes.
Wait for one pancake side to start browning and bubbling before flipping to cook the other side.
Once all your pancakes have been made, you're ready to test your artistic skills by building your pancake animals and monsters.
Summary
Halloween is all about tricks and lots of treats! We have put together this list of some of our favourite, simple yet nutritious snacks to enjoy over Halloween.
Remember to share your pictures of your fun creations by tagging us on Instagram @myvegan, or using the hashtag #Myvegan, for a chance to be featured on our feed.