Try this Halloween twist to your favourite chocolate and peanut butter flavour combo.
---
Recipe by Maria AKA @mimismacros
These bars are a tasty vegan take on the classic Reese's Pieces flavour combination – peanut butter and chocolate! The effect of white chocolate is achieved using a combination of rich Organic Cacao Butter Buttons, icing sugar and vanilla essence. This is then mixed with the moreish peanut butter flavours of our 100% natural Peanut Butter and the Vegan Carb Crusher.
These ingredients don't just provide mouth-watering flavours,  but also add a boost of natural plant-based protein, fibre and essential nutrients. The Cacao Butter Buttons add an organic source of natural fatty acids which come from the extracted paste of cacao beans and helps to give these bars their creaminess.
The Vegan Carb Crusher is our triple-layer protein bar that contains 15g plant-based protein and adds an extra nutritious boost to this recipe. They work perfectly in this recipe for adding tasty chunks that reveal themselves as you cut the bars up.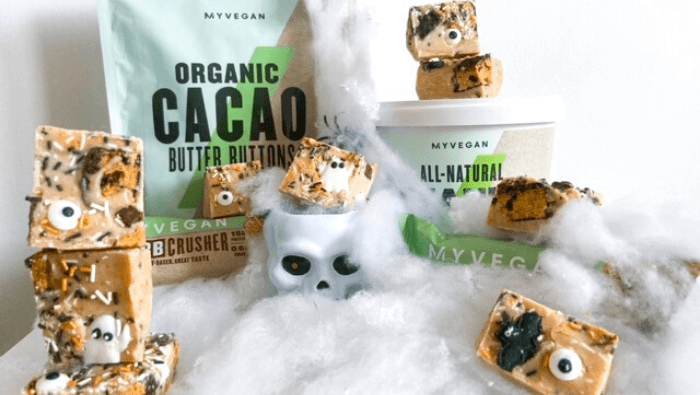 With the signature black and orange colours of Halloween mixed in with feature ghosts and eyes, these bars are fun way to add a seasonal twist to your baking. They are easy to make and are a great, mess-free snack to enjoy at home or on-the-go.
Their soft yet crunchy texture makes them extra satisfying to munch on and they'll also keep well if stored in a sealed container in the fridge!
Discover the full recipe below.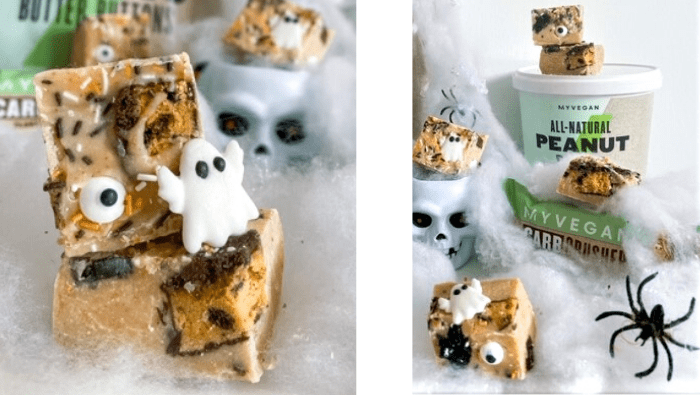 Vegan Halloween White Chocolate & Peanut Bars
Makes 16 squares
Ingredients
Method
First, melt the Organic Cacao Butter Buttons in a glass bowl over pan of boiling water (bain-marie) until they've melted completely.
remove the bowl from the heat and add the vanilla extract, sea salt and peanut butter, then stir to combine.
Sift the icing sugar into the bowl and mix well.
Chop the Vegan Carb Crusher into small chunks and add them into the chocolate mixture until they are coated.
Pour the chocolate into moulds or a lined baking tray and sprinkle with any extra decorations.
Set in the freezer to harden for 15-20mins.
Cut into squares and enjoy!