BOOST Juice x Myvegan — our juiciest partnership yet.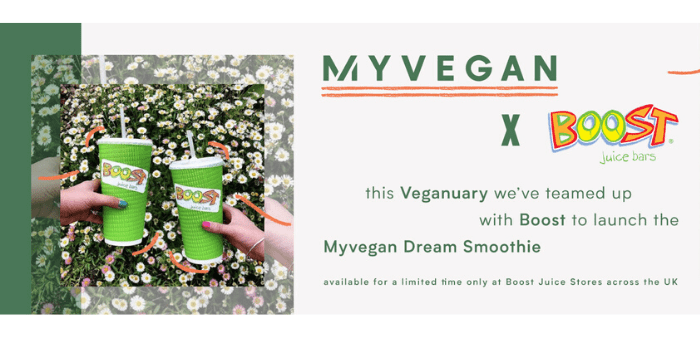 This January, we've teamed up with Boost Juice to bring you our very own Boost Smoothie, the Myvegan Dream. Throughout January (AKA Veganuary), you'll be able to buy this delicious, plant-based smoothie from any Boost Juice store across the UK.
Each Myvegan Dream smoothie contains a blend of fresh fruit and our quality protein blend to make a vibrant and exotic drink that'll have you exploding with energy. Plus, if you take in your own reusable cup or shaker, the team at Boost Juice Bars will happily use it to put your smoothie in.
Discover more about the Myvegan Dream below, as well as information on special giveaways and competitions.
What's in the Myvegan Dream Smoothie?
The Myvegan Dream is the perfect fresh and fruity smoothie to keep you feeling energised in January. Plus, the addition of our vegan protein powder makes the Myvegan Dream the ultimate protein-packed health kick.
This smoothie is made using a refreshing blend of passion fruit, mango pieces, mango nectar, pineapple, spinach, banana, a big splash of coconut water, coconut milk, and our Unflavoured Vegan Protein Blend.
Win £100 to spend on Myvegan
To celebrate our partnership, Boost will be running a giveaway for 1 winner to receive a £100 Myvegan voucher to spend on the full Myvegan range. This is the perfect opportunity to stock up on your favourite plant-based supplements and treats without spending a penny!
How do you enter? – Keep your eyes peeled on Boost's social channels (@boostjuiceuk) for their giveaway where you can enter for a chance to win incredible prize.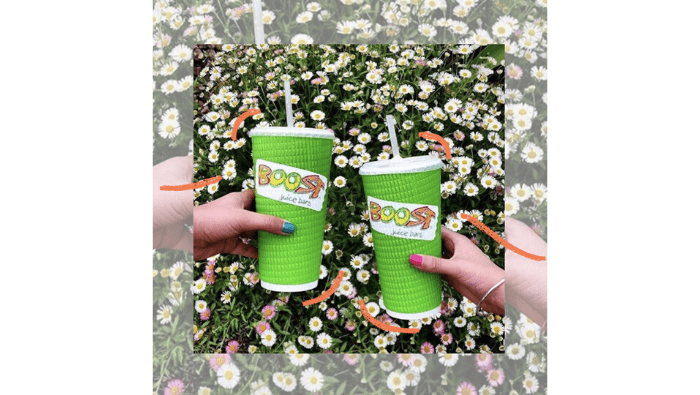 Win a £100 voucher for Boost
Alongside Boost's giveaway, we will be running our own juicy giveaway for 1 lucky winner! Watch out on our social channels (@myvegan) for more information and a chance to enter. The winner will receive a £100 voucher to spend in any Boost Juice UK bar – that's a lot of smoothie!
Myvegan discount when buying Myvegan Dream
If the mouth-watering juiciness of the Boost x Myvegan smoothie wasn't enough to tempt you, you will also receive an exclusive discount to use on Myvegan.com when you buy the Myvegan Dream. Every Myvegan Dream smoothie comes with a special card with a discount code on it giving you £10 off your next Myvegan order – simply enter the code at checkout and the discount will apply (minimum order spend applies).
Where is my nearest Boost Juice store?
Desperate to get your hands on the new super-fruit, protein pick-me-up? Find your local Boost Juice store here.
Don't forget to tag @myvegan and @boostjuiceuk to show us you with your Myvegan Dream. We will share our favourites across our social channels.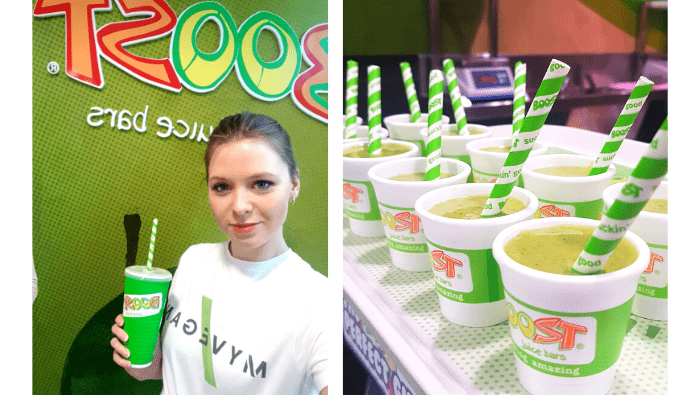 Summary
What better way to kick-off Veganuary than with a new, limited edition vegan smoothie that's delicious and healthy! Packed with exotic fruits and quality plant-based protein, our Myvegan Dream will give you a taste of the Caribbean and leave you feeling refreshed and energised. You can even try whip up your own vegan protein smoothie at home using our Vegan Protein Blend. Simply add a scoop to a blender along with fruit, water and plant-based milk to create a delicious and healthy shake.
Don't forget to tag us in your pics with your Myvegan x Boost smoothie using the hashtag #Myvegan or tagging us @myvegan.
So what are you waiting for? Your Myvegan Dream is waiting.