This Maple Roasted Brussels Sprout Salad recipe makes the perfect savoury winter salad with an added natural sweetness from the apples and cranberries.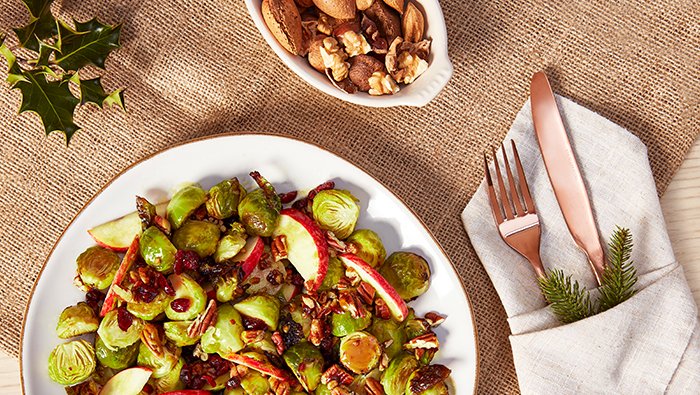 The combination of savoury and sweet make this a delicious salad to to compliment a Christmas dinner or lunch. The added pecans provide a nutritious garnish that also add another texture to the dish.
Tossing the ingredients is an effective and fun way to combine them together – see how much you can keep in the bowl!
Maple Roasted Brussels Sprout Salad Recipe
Ingredients
For the dressing:
2 tbsp. olive oil
2 tbsp. balsamic vinegar
1 tbsp. Sugar-Free Maple Syrup
1 tsp. dijon mustard
salt and pepper to taste
For the salad:
1 tbsp. olive oil
450g brussels sprouts trimmed
dash of salt and pepper
50g dried cranberries
50g pecans
1 medium apple
squeeze from 1/2 lemon
Method
Preheat the oven to 400°C and line a baking tray with parchment paper.
Prepare the brussels sprouts by tossing them in a bowl with the olive oil, salt and pepper. Spread them out evenly on the tray and roast in the oven for approximately 30 minutes or until slightly crispy on the outside.
Meanwhile, make the dressing by whisking together the olive oil, vinegar, maple syrup, and dijon mustard in a small bowl. Season to taste with salt and pepper.
Slice the apples into thin slices and mix them in a separate bowl with lemon juice.
Once the brussels sprouts have cooled, cut them into thin strips and add them to a large salad bowl. Add the sliced shallots, dried cranberries, pecans, and chopped apples, and toss them to mix them together.
Drizzle over the dressing and toss some more. Serve immediately.