This zero-waste stir-fry, created in collaboration with Plant Power, will help you fight food waste – whilst boosting your protein and nutrient intake all in one.
---
We've all been there. A few odd vegetables hanging around in the fridge, but nothing sparks creativity or inspires you to cook a full meal. You then find yourself eating hummus off a spoon, and head to the supermarket to restock on every item imaginable. 
Before you know it, those perfectly edible vegetables become too mouldy to consume and they end up going in the bin. The fact that we've all been there demonstrates why food waste problem is such a huge problem. In fact, in the Uk alone, £10.2 billion worth of food is wasted each year, which amounts to an eye-watering (and unpleasant smelling) 6.7 million tonnes of food.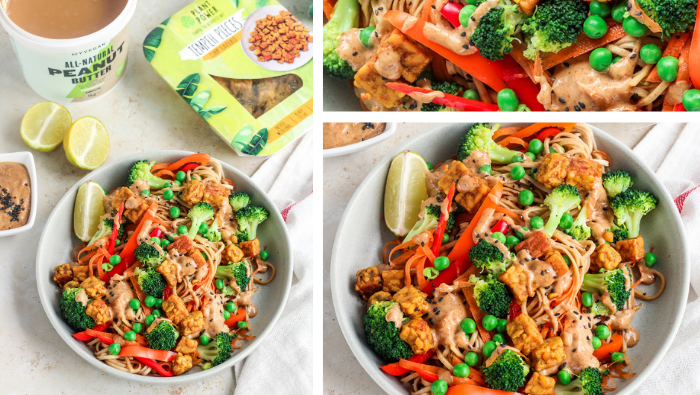 Our zero-waste Tempeh Stir-Fry, created in collaboration with Plant Power, will challenge you to cook (and eat) everything in your fridge, freezer and cupboards, before you think about taking another trip to the supermarket. And the beauty of this recipe is, you don't need to follow it down to the T. Simply throw in any leftover veggies lurking at the back of your fridge, or switch out ingredients depending on your personal preference. This will help to eliminate food waste, save you money, and even get you exercising your creativity in the kitchen! 
In the wise words of Sir David Attenborough: 
If there's one thing we all have to do, it is to avoid waste. Don't waste anything. Don't waste electricity, don't waste food, don't waste power.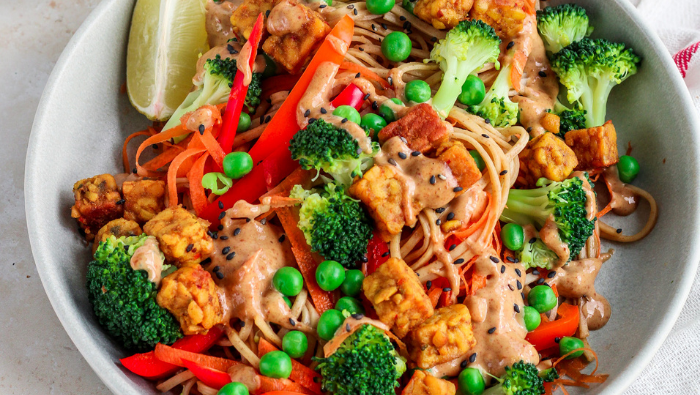 Stir-Fry Tempeh Noodles Recipe
Ingredients
5 tbsp. Myvegan Organic Peanut Butter
2 tbsp. tamari or soy sauce
2-3 tbsp. maple syrup
1 cm fresh ginger
Juice of half a lime
1 garlic clove
Some water
Some salt to taste
2 Noodle bunches (any noodles you have to hand such as wholewheat noodles or rice noodles)
1 pack of Plant Power Tempeh curried pieces
Some broccoli florets
1 red pepper cut finely
1 large carrot (shredded on a mandolin or chopped finely)
1/4 cup peas (cooked)
Method
To make the sauce, add the peanut butter, tamari, maple syrup, lime juice, garlic, ginger, chilli, salt to taste, and a little water in a food processor.

Blitz until you get a smooth and runny consistency, adding in a little water at a time to get the smooth consistency. 

To make the stir-fry, cook your noodles as per the packaging instructions in a pan.

In a wok, add the tempeh pieces and fry until golden in a little olive oil. Remove from the wok and set aside.

Add a little oil (sesame oil or olive oil) and add in the broccoli and peppers along with some tamari and stir fry them until tender.

Add in your peas, shredded carrot, noodles and tempeh, then mix through.

Add in some of the peanut sauce and mix through to coat leaving some extra sauce to drizzle over at the end.

Plate up the stir fry noodles and drizzle over more of the peanut sauce and an extra squeeze of lime and enjoy.