With this year's festivities well and truly upon us, it's time to start thinking about the important stuff – what we're having for our vegan Christmas dinner.
---
Being vegan doesn't mean we have to miss out on British rituals like a hearty Christmas dinner, or enjoy them any less. In fact, so many of our favourite trimmings are, or can very easily be, vegan – think fluffy roast potatoes, rich gravy and hearty stuffing.
So what's the starring role missing from this scene? We think it's a hearty slice of nut roast.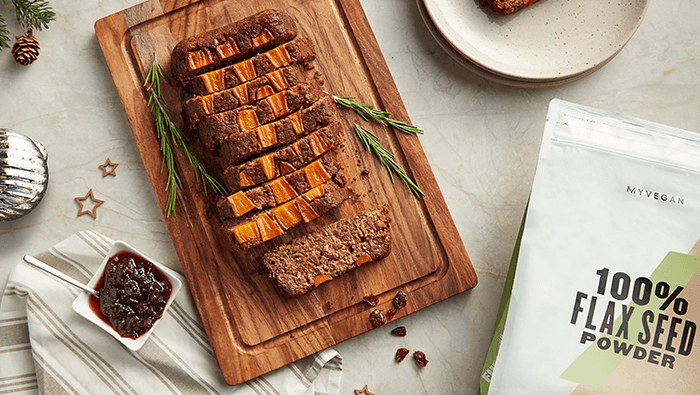 First things first, what are nut roasts?
In short, a nut roast is a tender loaf with a base of cooked and blended nuts, vegetables and stock. There are many things that can be added or omitted, depending on your preference – lentils, mushrooms and dried cranberries to name a few.
Sound good to you? Well, you're in for a treat with our tried and (very well) tested nut roast recipe. It's wholesome, satisfying and even makes individual portions, so you don't have to worry about who gets the biggest slice.
Vegan Nut Roast Recipe
Ingredients
1 scoop Flax Seed Powder
60 ml water
250 g baby carrots
1 tbsp. olive oil
2 tbsp. Sugar-Free Maple Syrup
Some salt
1 tbsp. olive oil
1 large onion (chopped)
1 celery stick (chopped)
2 garlic cloves (minced)
1 tbsp. smoked paprika
2 tsp. dark soy sauce
3 rosemary sprigs
1 tsp. tomato puree
350 g mushrooms
100 g pecans
50 g hazelnuts
400 g lentils
400 g chickpeas
Method
Make the flax egg by mixing the Flax Seed Powder with water. Set to one side.

In a separate bowl, add the baby carrots, 1 tbsp olive oil, maple syrup and salt. Mix together until the carrots are fully coated, then place the carrots onto a lined baking tray. Roast for 25 minutes.

Meanwhile, in a pan, add 1 tbsp olive oil, onion, celery stick, garlic cloves, smoked paprika, soy sauce, rosemary sprigs, tomato puree, salt, mushrooms. Cook until soft.

In a food processor, add pecans and hazelnuts, then blend. Add the lentils and chickpeas then blend again.

Add the flax seed paste and mushroom mix into the food processor and blend together.

Assemble the nut roast: add carrots to the bottom of your baking tin, followed by a thick layer of the nut roast mix. Repeat this process until the tin is full.

Bake for 40 minutes. Enjoy!