Recipe by Maria Devine (@mimismacros)
It's our birthday! And everyone knows that on your birthday all rules (macros) go out the window. Crisp on the outside, and soft and fluffy on the inside, this giant birthday cake roll is completely irresistible and over the top – just how all celebrations should be!
While this recipe tastes super indulgent, our Vanilla Soy Protein Isolate Powder adds a boost of plant-based protein, which is perfect if you want to support your fitness goals, while treating yourself to something sweet. And as if the recipe wasn't tasty enough, our White Chocolate FlavDrops naturally enhance the flavour even further, without any unwanted sugar, calories or fat.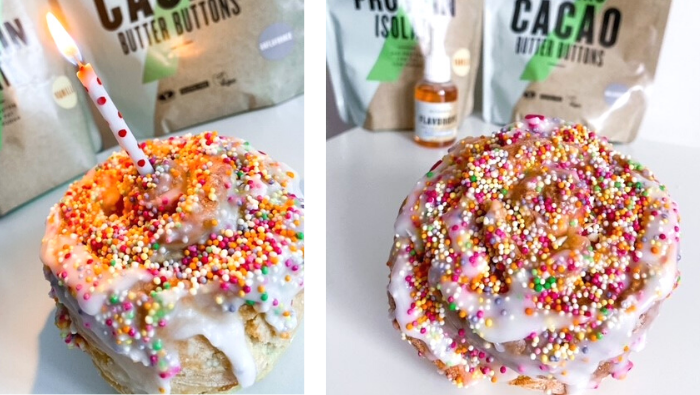 Get in the birthday spirit and make one for yourself right now as a fun post-workout treat, or keep this recipe up your sleeve for a loved one's birthday. It's basically a present in itself.
Giant Birthday Cake Roll Recipe
Ingredients
Topping
3tbsp icing sugar 

1tsp water 

2tsp sprinkles  
 Method
Preheat the oven to 180*C .

Stir together the flour and protein powder.

Add the yoghurt, White Chocolate FlavDrops and work to form a dough .

Place on a lightly floured surface and roll the dough to an oblong shape .

Brush the top of the dough with most of the melted Cacao Butter Buttons, and scatter over the sprinkles.  

Tightly roll up the sprinkle roll and brush the top with the rest of the melted Cacao Butter Buttons.

Bake for 25-30 minutes until golden.

Stir together the icing sugar and water. 

Allow to cool and then drizzle with icing and more sprinkles!