After an easy and healthy post-workout treat that doesn't hold back on flavour? We've got you! 
---
Recipe by Maria Devine (@mimismacros) 
There's nothing more rewarding than a delicious snack after a gruelling workout. But if you're getting bored of the same old protein shake, it's probably a sign you need to switch things up. If you're a fan of our vegan Salted Caramel Soy Protein Isolate, you need to try this recipe!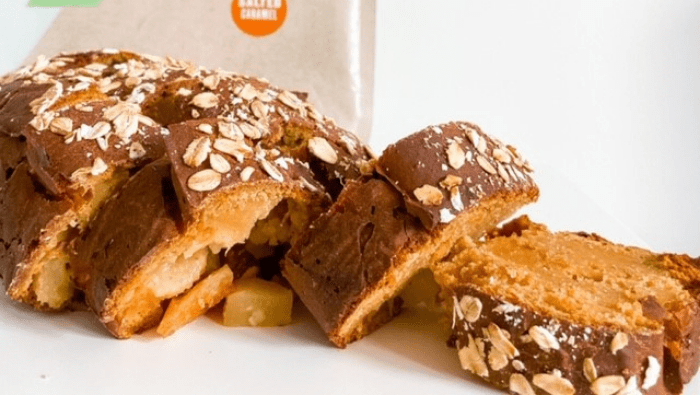 This vegan Appie Pie & Salted Caramel Loaf is ridiculously easy to make, and is loaded with nutritious ingredients including Organic Maca Powder, an excellent source of vitamin C which helps to support healthy bones1 and reduce feelings of tiredness and fatigue2. It also delivers an impressive 6g of protein per slice with a helping of our Salted Caramel Soy Protein Isolate – the most delicious way to support muscle growth and maintenance3.
Oh, and did we mention this recipe is low in calories and naturally sweetened with our Sugar-Free Butterscotch Syrup too? 
Apple Pie & Salted Caramel Loaf Recipe
Serves 10 
Macros per slice: 135kcal • 1g fat • 25g carbs • 6g protein 
Ingredients
350g unsweetene

d apple sauce

 

1 flax egg

(mix 1tbsp Flax Seed Powder with 3tbsp water)

85ml plant-based milk

 

1 tbsp apple cider vinegar/ lemon juice 

 

180g flour 

 

40g Soy Protein Isolate Powder

(

S

alted 

C

aramel

)

 

40g oat flour 

 

1 tbsp cinnamon

 

1 tsp mixed spice

 

20g granulated sweetener 

 

1tsp baking powder 

 

1/2tsp 

b

aking soda 

 

1 

a

pple chopped

 

Pinch salt 

 

1tsp Organic Maca Powder
Method
Preheat the oven to 180 degrees and line a baking tin.
Combine the plant-based milk and apple cider vinegar, then set aside for 10 minutes.
Add the flax egg and the rest of the wet ingredients.
Sift in the dry ingredients and fold through the chopped apple.
Pour into the tin and sprinkle with rolled oats.
Bake in the oven for 40 minutes. Enjoy!