These vegan bars are so deliciously rich and satisfying – you'll be coming back for more.
---
Recipe by Nadja Kowalski 
This recipe is one of the simplest and easiest ways to make your own tasty snack bars. They require no baking and are made with a handful of natural ingredients that give them their amazing taste and texture. The bars are created using our irresistible Vegan Gooey Filled Cookies, which are low in sugar, palm oil free, dairy-free, and packed with 13g quality plant protein. This makes them perfect for satisfying those sweet cravings whilst working towards your fitness goals.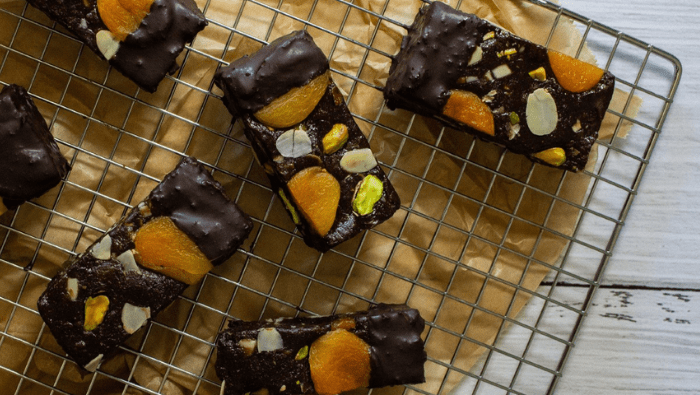 The nuts mix in well with the sweet chocolate mix and also provide a source of unsaturated fatty acids and fibre. The apricots, almonds and pistachios don't just add extra nutrients and texture, they also give the bars their fantastic paved appearance on top in oranges, yellows and cream. You can dip half of the bars in melted chocolate for a half-and-half appearance or drizzle some on top – get creative and find you preferred cookie bar look! We can guarantee these will impress friends or family and they'll never now how easy they are to make.
The bars will stay moist and delicious if stored in a tupperware but they taste their best eaten in the first few days of making them.
Servings

8
Vegan Gooey Filled Cookie Bars Recipe
Ingredients
6 Vegan Gooey Filled Cookies (Double Chocolate & Peanut Butter)
3 tbsp. maple syrup
20 g coconut oil
220 g dried apricots
1 handful pistachios
50 g flaked almonds
100 g dark chocolate (optional)
Method
First, break up the Vegan Gooey Filled Cookies into a food processor or blender.

Add the maple syrup, coconut oil, and dried apricots and blitz until you have a thick and sticky mixture that is well combined.

Spoon out the mixture into a bowl and add the pistachios and flaked almonds. Stir together with a spoon or spatula so that the nuts are evenly spread throughout the mixture, then transfer to a lined baking tray.

Press the mixture evenly across the baking tray. Push a few extra dried apricots and nuts on top to decorate.

Chill in the fridge for 2 hours.

Once chilled, slice up into 8 evenly-sized bars. If you're feeling extra indulgent, you can dip the end of each bar into some melted dark chocolate and then enjoy!