Salted Caramel Pretzel Smores Bars
Recipe by Maria AKA @mimismacros
In 5 quick steps you can make the perfect protein-dense snack bar; jam-packed with nutrients that support a well-balanced diet. Perfect for on-the-go snacking or accompanied with a brew – get ready to create your new snack-time staple.
When following a plant-based diet, ensuring you are hitting your daily protein goals can be a tricky task – this is when a protein rich snack becomes your new best friend. Incorporating a protein rich snack is an efficient and convenient way of ensuring targets are met. They also taste really good when done right – this recipe being an ideal example for you to try at home.
We also provide a significant range of vegan snack bars from baked cookies, carb crushers to pea-nut squares – all rich in protein and super tasty. Take a look at our range by clicking here.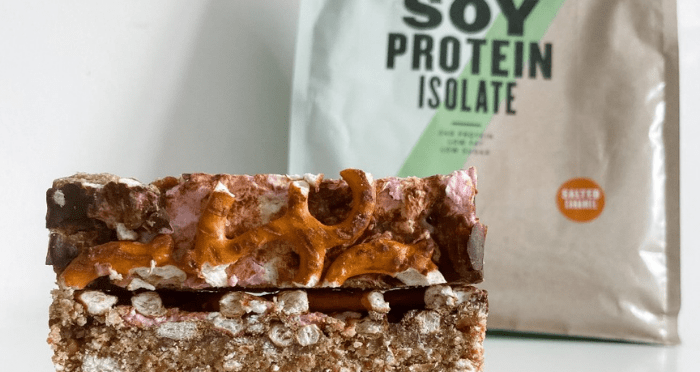 Why are dates good for you?
Dates are the unsung superfood hero that is a necessity for your kitchen cupboards. Not only do they taste deliciously sweet where you feel like you're having a treat, but they also provide endless health benefits. A few of the top nutritive components derived from dates are listed below:
Protein-Rich – when following a plant-based diet, it can be a challenge to ensure you are incorporating enough protein into your daily goals. Dates are the perfect way to ensure these are achieved as they are high in protein.1
High in Natural Sugar – dates are a reservoir full of natural sugars from fructose to glucose; providing great forms of energy throughout the day.
Vitamin & Minerals – dates hold over

15

different

forms of vitamins and minerals; magnesium, iron, potassium and sodium to name a few.1 The listed vitamins and minerals support the body function in a variety of ways from reducing fatigue2,  supporting heart health3 and lowering blood pressure.3  
Rich in Antioxidants – dates contain a wide variety of antioxidants, essential to improve the immune system whilst simultaneously reducing the risk of many diseases and free radical cells.4,5
Tips, Tricks & Storage
Melting Chocolate – place dark chocolate in a heatproof bowl and microwave for no more than 30 seconds at a time. Stir well after each microwave session!
Storage – keep smores in airtight tupperweare to prolong freshness.
Keep scrolling to find the full ingredients list and method.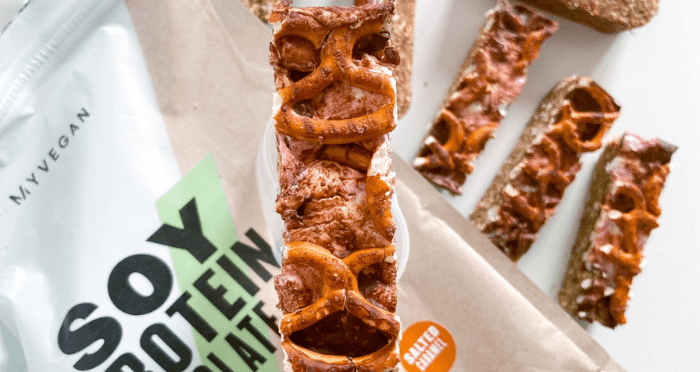 Salted Caramel Pretzel Smores Bars Recipe
Nutritional Values
Serving Size: 10 bars
196kcal
20g carbs
11g fat
7g protein
Ingredients 
130g dates (pitted and soaked)
80g Peanut Butter
90g almond meal
50g pretzels (extra for topping)
30g Soy Protein Isolate (Salted Caramel)
1 tsp vanilla extract
2 tsp cinnamon
Topping
60g dark chocolate
A handful of vegan marshmallows

Method
Drain the date water and set aside (you may need to add some for the dough to come together).
Blend all the ingredients and press the mixture into a lined baking tray.
Melt the chocolate and the marshmallows and spread on top.
Top with additional pretzels.
Place in the fridge for 25mins and then slice into bars!