The wait is finally over – two brand new Myvegan x Jelly Belly Clear Vegan Protein powder flavours have just landed.
Here's everything you need to know about Clear Vegan Protein, the new Jelly Belly flavours, and how to use them.
What is Jelly Belly Clear Vegan Protein?
Back in 2020, we launched the first flavours of our Clear Vegan Protein powder. This light, refreshing drink was (and still is) a game-changing alternative to traditional thick protein shakes.
Now, you can get Clear Vegan Protein in two new delicious Jelly Belly flavours! Add some sweet, colourful nostalgia to your everyday nutrition with limited edition Very Cherry and Berry Blue.
Each serving contains 11g of plant-based protein1, and at least 50% of your daily intake of essential B vitamins2,3.
If you were a fan of our other Jelly Belly flavours Strawberry Cheesecake and Top Banana, you're sure to love these latest additions to our range.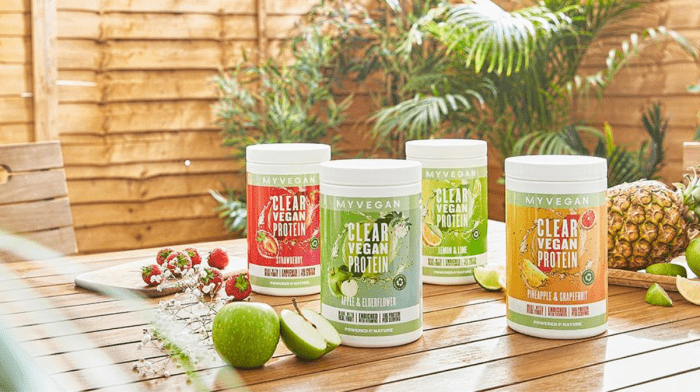 Discover our juiciest and most refreshing plant-based protein powder.
Jelly Belly Clear Vegan Protein: Very Cherry
Very Cherry is Jelly Belly's most popular flavour of all time, so it was an obvious choice for this partnership!
Very Cherry flavour is as close as it gets to the real thing, which makes it perfect for a juicy Clear Vegan Protein drink.
Bright red, super fruity, and perfect for a nutritious protein-packed drink at any time of the day. What's not to like?