Our mission is to continue changing the game in plant-based nutrition – and our Clear Vegan Protein does just that.
We have gone completely out the box and created a WORLD FIRST in sports nutrition and vegan well-being – a refreshing, juice-like protein shake.
Our Clear Vegan Protein is a low-sugar protein shake that contains 10g of plant-based protein sourced from hydrolysed pea protein. It's fully dissolvable and creates a light and juicy drink that can be enjoyed at any time of the day.
If that isn't exciting enough – we have recently added two new delicious flavours into the mix; Apple & Elderflower and Pineapple & Grapefruit.
What is Clear Vegan Protein and why is it so game-changing?
Protein shakes have traditionally been like milkshakes – creamy, thick and indulgent. This is great for those who love those sweet and dessert-like flavours such as chocolate, strawberry cream or coffee-and-walnut. These shakes, however, may not always be suitable for the time of day or mood. For example, on a hot summer's day or very close to a workout, a protein shake may feel too thick and heavy.
In the past, times likes these are when people tend to have a BCAA drink in order to increase their amino acid intake without drinking a heavy protein shake. Now, however, we've created a game-changing solution – a clear, juice-like vegan protein drink.
That's right. The Clear Vegan Protein harnesses cutting-edge, spray-drying technology to allow pea protein isolate to be formulated into a completely soluble powder. This innovative equipment and development process has allowed us to create a truly game-changing product that is market-leading for taste and texture in the vegan protein powder space.
This is then simply mixed with water to create a refreshing and light alternative to traditional protein shakes.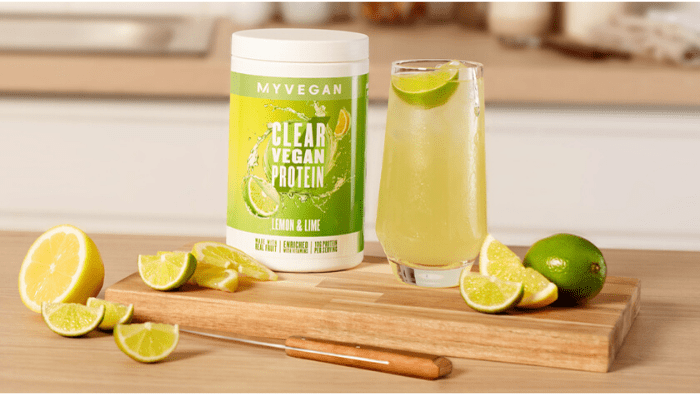 What are the juicy nutritionals and benefits?
Each serving of Clear Vegan Protein provides 10g of quality, hydrolysed pea protein which provides the body with the building blocks it needs to build and repair muscle tissue.1 For vegans looking to increase their protein intake, the Clear Vegan Protein provides an extremely quick and easy (and tasty!) way to do so. It also has only 1g of sugar and 54 calories in it per serving – you can sip on this all day long and not worry about any hidden added sugars.
| | | |
| --- | --- | --- |
| Nutritional Information | Per 100g | Per serving |
| Energy | 1369kJ /337kcal | 220kJ /54kcal |
| Fat | 0.5g | 0.1g |
| of which saturates | 0.1g | 0g |
| Carbohydrates | 16g | 2.6g |
| of which sugars | 3g | 0.5g |
| Fibre | 0.5g | 0.1g |
| Protein | 63g | 10g |
Not only this, but this incredible supplement contains added B vitamins – 50% of your recommended daily intake per serving in fact! B vitamins are an essential part of a plant-based diet as they play various important roles in the body, from normal psychological health to reducing tiredness2,3. Clear Vegan Protein contains pantothenic acid (B5) and thiamine (B1) which support mental performance and heart function respectively.4,5
Vitamin B12 is an essential B vitamin which supports the normal function of the immune system and is notoriously hard to source naturally in the diet. For those on a plant-based diet, it can only be sourced through supplements and some fortified foods such as plant-based milks, so the Clear Vegan Protein is a great way to increase daily intake of this essential vitamin, especially if you aren't a fan of a daily vitamin or tablet.
As well as supporting the normal function of the immune system6, Clear Vegan Protein contains Biotin and Riboflavin. Biotin is important for supporting healthy hair and skin7, whilst Riboflavin contributes to the protection of cells from oxidative stress8.
| | | |
| --- | --- | --- |
| Active Ingredients | Per serving | NRV |
| Niacin | 8 mg | (50%*) |
| Pantothenic Acid (B5) | 3 mg | (50%*) |
| Riboflavin | 0.7 mg | (50%*) |
| Vitamin B6 | 0.7 mg | (50%*) |
| Thiamine (B1) | 0.55 mg | (50%*) |
| Folic Acid | 100 µg | (50%*) |
| Biotin | 25 µg | (50%*) |
| Vitamin B12 | 1.25 µg | (50%*) |
The Clear Vegan Protein is available in four thirst-quenching flavours – Strawberry, Lemon & Lime, Pineapple & Grapefruit and Apple & Elderflower. What makes this shake so tasty and refreshing is the fact it is made using real fruit juice. The juice from the strawberries, limes, lemons, pineapples, grapefruit and apples give it it's natural flavour and colour making it a delicious and healthy drink to incorporate into your diet.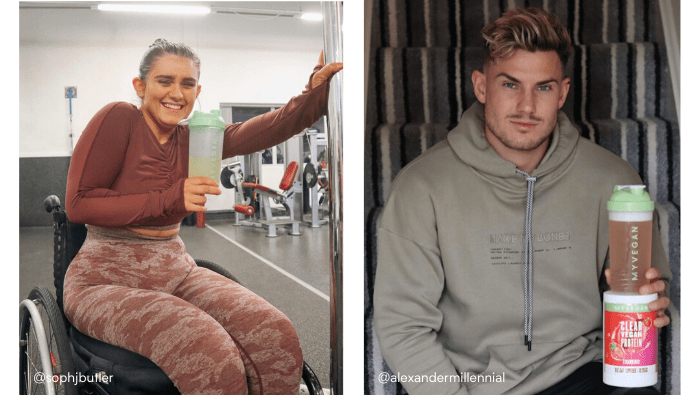 How should I have Clear Vegan Protein?
1. Shaken. Not Stirred.
To make a Clear Vegan Protein shake you just need to follow these very simple steps:
ADD 1 serving (16g) to approximately 300-400ml of water.
SHAKE it up until the powder dissolves.
WAIT until the foam settles (don't worry – the foam is a natural reaction to the shaking!).
DRINK before, during, or after a work out.
You can adjust the water amount to find your preferred strength.
2. Frozen.
Clear Vegan Protein can also be incorporated into your favourites drinks and desserts – be adventurous!
For example, freeze some diluted Clear Vegan Protein in an ice-cube or lolly tray to make some easy, fruity protein ice-cubes or ice-lollies – perfect for summer!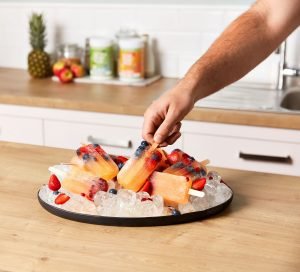 We have also come up with some super simple recipes to help you get the most out of your Clear Vegan Protein; Apple Tonic and Pineapple Screwdriver Mocktails. Thirsty work!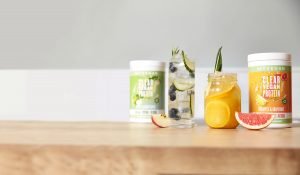 3. Recycle your tub.
What makes this protein even better is that the tub is made using 100% recyclable plastic. Just remove the outer wrapping and ensure the tub is added to your plastic recycling once you are finished with it.
Alternatively, this durable tub can be re-purposed into a storage container for pasta and grains, household objects, make-up, or whatever needs tidying away.
You can even decorate it with your best designs and share your creations with us on Instagram @myvegan or with the hashtag #TeamMyvegan.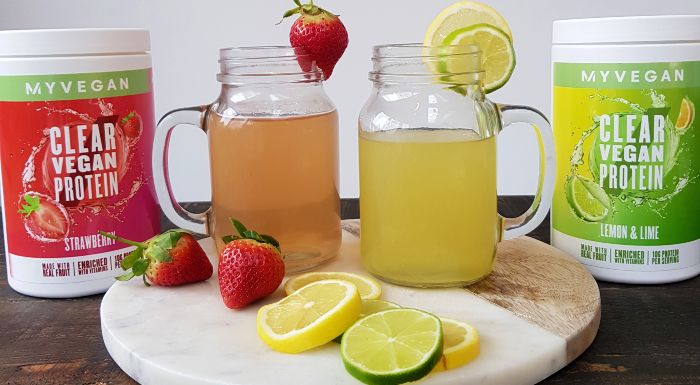 Summary
Like your favourite diluting juice, you can drink these regularly and not tire of the flavour. The delicious real fruit juice of our nutritious range makes make this the ultimate refreshing protein shake to enjoy whenever you want a protein boost. The low sugar and 10g of plant-based protein make the Clear Vegan Protein perfect for those working towards weight loss goals (or any goals for that matter).
So, which flavour will you try first?