Take your December breakfasts to a whole new level with this scrumptious mighty mince pie porridge!
---
Bringing you all the festive flavours of a mince pie (minus the hefty sugar and fat content), this healthy breakfast option is bursting with all the festive spices and slow-release carbohydrates to keep you fuller for longer and support the recovery process after exercise. What's more, oats are a great source of plant protein to support the growth and maintenance of muscle mass too!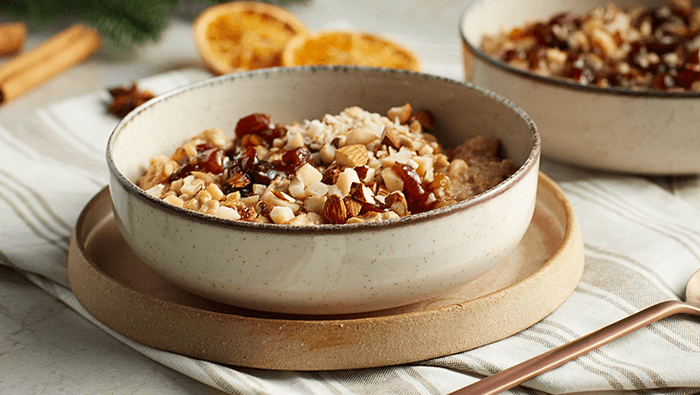 Super-simple and easy to make, this just-sweet-enough, creamy and crunchy bowl of oats is exactly what your busy week needs. Check out the full recipe below!
Mince Pie Porridge Recipe
Ingredients
350ml plant-based milk
3 tsp mincemeat
1 tbsp orange juice
¼ tsp ground ginger
1/4 tsp ground nutmeg
¼ tsp cinnamon
¼ tsp cloves
To serve: 
Method
Make your porridge according to instructions on packet. 

Combine the oats and plant-based milk in a saucepan on a medium heat and warm until the porridge starts the thicken and bubble a little (about 5 mins). Remove from the heat when the porridge is at the consistency you prefer.

 

Warm the mincemeat in a saucepan for a few minutes. Once warm, stir most of the mincemeat into the porridge (keeping a little for garnishing).

 

Add the spices and orange juice into the porridge. 

 

Serve with a dollop of mincemeat on the top and garnished with the nuts.